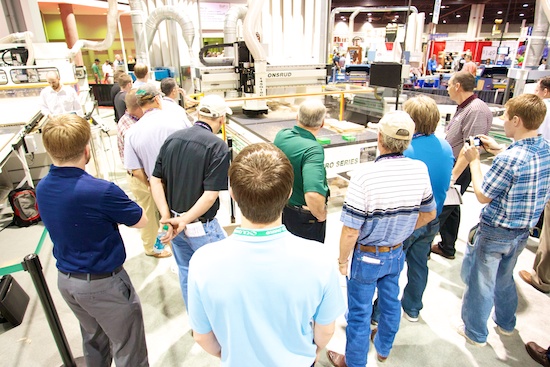 IWF 2012 advance registrations topped 15,000.
IWF Atlanta 2012 started out strong and that trend continued for the duration of the show, organizers say.
From the first day when people lined up at the doors early and continuing Thursday, Friday and Saturday, the International Woodworking Fair (Aug. 22-25) did not disappoint.
"IWF 2012 will be recorded in the history books as one of our most productive shows," says Patrick LaFramboise, IWF president and CEO.
With advance registrations topping the 15,000 mark and more than 850 exhibitors – 150 exhibiting for the very first time – organizers say there was great traffic and strong interest in new products and services.
"There is a lot of pent up demand," says Jim Wulfekuhle, IWF's Director of Marketing & Communications.
IWF is the largest North American show venue for material processing, design and technology. In addition to show attendance and exhibitor numbers, the greatly expanded educational component, with more than 30 sessions and five, one-day symposiums, also offered more than ever before.
"Judging by the exhibitor comments about leads generated and potential business prospects, it was a very good show for all concerned," says LaFramboise.
"Our buyer/attendees were impressed by the technology and the broad spectrum of products they saw this year. IWF 2012 was a clear winner."
IWF experienced double-digit attendance growth and Wulfekuhle says early indications are "that we are up 12% and that number should grow as we complete the verification process, exhibit space was up as well.
"In other good news, Canadian advanced registrations were up compared to 2010 as well. More than 500 people registered from Canada.
"We also saw nationwide growth in advanced registration for the show," Wulfekuhle says.
He adds that IWF exhibitors were able to capitalize on a strong qualified buying audience where pent up demand came at the right time for the industry and IWF and for many exhibitors this was one of the strongest IWF shows based on the quality of the attendance.
Wulfekuhle adds that no other U.S. show connected to the commercial and residential industry has experienced a double-digit percentage growth in attendance in the last two years.
"We also saw growth in our conference program, which means the demand for products matched the needs for training, and we had international attendance from over 50 countries. We expect our international numbers held up despite some difficult economic times in countries where we do well."
Final attendance numbers are not yet available.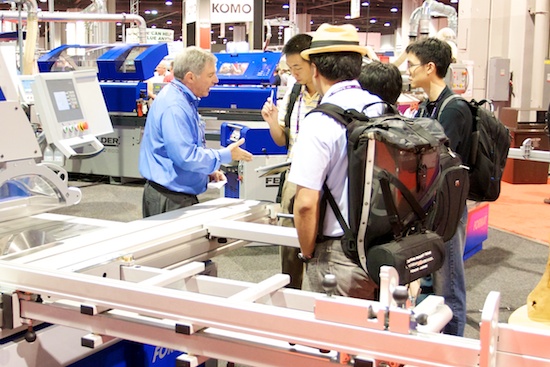 Hundreds of Canadians attended IWF 2012.