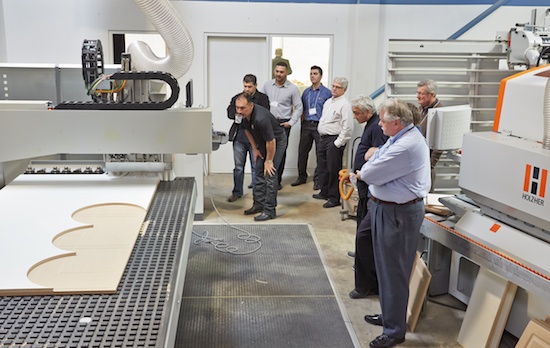 Dozens attend grand opening of Taurus Craco's new HOLZ-HER showroom.
Taurus Craco Woodworking Machinery Inc. of Brampton, Ont. has marked a new milestone with the official grand opening of its new HOLZ-HER showroom.
Taurus Craco recently became the exclusive distributor for HOLZ-HER's complete product range in Ontario and Atlantic Canada and on Nov. 29-30, the companies marked the occasion with an official grand opening and open house.
Dozens of woodworking and industry professionals came out in support of the new venture and to check out the complete line-up of HOLZ-HER machinery.
There were live demonstrations and an opportunity to meet with factory representatives from HOLZ-HER and representatives from the many other Taurus-Craco brands.
"We are extremely proud to be able to represent HOLZ-HER and offer their complete product ranges to our customers," said Wes Love, vice-president of Taurus Craco.
"We have made a big commitment in our showroom and with additional staff for sales and support to provide the best marketing and service for the new products.
"With the combination of WEINIG and HOLZ-HER we can now offer the perfect one-stop shop for solid wood and panel processing under one roof. That's the advantage of being able to offer the complete line available from the WEINIG Group."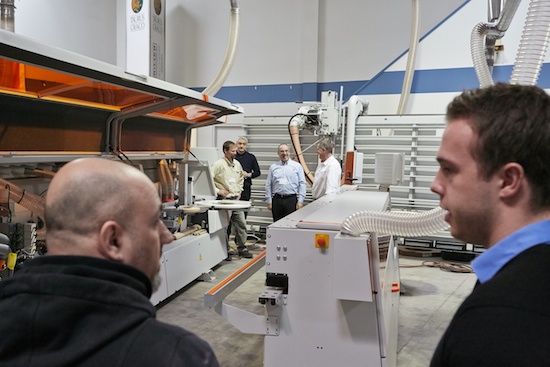 Claude Arsenault, vice-president of HOLZ-HER Canada Inc., said the appointment of Taurus Craco will bring a big change for HOLZ-HER as it marks the company's return to the important Ontario market.
He said Taurus Craco Machinery, which is led by Peter Feindel, president, and Wes Love, enjoys and excellent reputation as one of the best woodworking machinery distributors in Ontario, the largest and most important market in Canada.
"It's good to be back in Ontario and with this strong representation," Arsenault says.
"This is a great opportunity for HOLZ-HER and for Taurus Craco to compete in the market. I am excited about this new partnership, it's a very good thing for all of us." Arsenault also praised Taurus Craco for its long history of excellence in supplying, supporting and training its customers.
In addition to an extensive line-up of machinery, the open house also featured seminars, an opportunity to see the latest in woodworking technology as well as a chance to socialize with other industry professionals and enjoy some food and beverages.
Among the many machines featured at the event was everything from HOLZ-HER's storage and retrieval system to WEINIG's new CUBE-S4S. And Taurus Craco donated $25 per event attendee to Movember, an organization committed to raising awareness and funds for men's health issues.