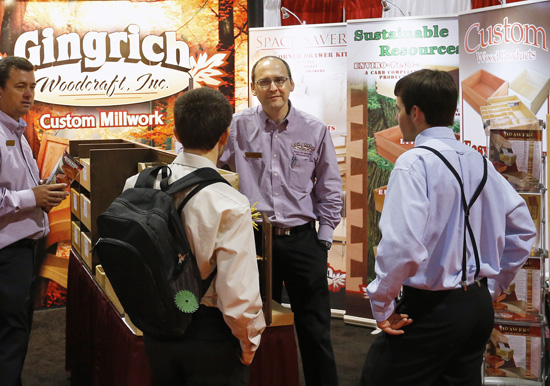 Photo: Woodworking
Leon Gingrich, centre, talking to customers at IWF Atlanta in 2012.

Gingrich Woodcraft Inc. has shut its doors and let go their production staff after the majority of its workers (69 percent) voted in favour of joining a union.
Citing religious reasons, owner Leon Gingrich says he had no choice but to close the business.
In a note to customers and suppliers last week, Gingrich informed them of the decision to close the business.
"On Aug. 12, 2015 the majority of our production workers chose to join a labour union.
As Christian business owners, our personal beliefs will not allow our conscience the freedom to work with a labour union, as we are required by Scripture to "live peaceably with all men," and not to use force to gain what we want or for what is require to succeed.
"Our decision in view of developments to date was to stop production of wood products at Devlin, Ont. effective Aug 17, 2015. All production employment was terminated."
As a result of the closure, Unifor, Canada's largest private sector union, has filed complaints against the company with the Ontario Labour Relations Board alleging unfair labour practices and an illegal lockout.
Talks this week between Gingrich and Unifor ended without a settlement and as a result the matter will now proceed to a labour board hearing scheduled for the end of September.
Unifor leader Stephen Boon has been quoted in various media outlets as saying that it is not up to an individual's religious beliefs to violate labour laws. And the union has said it wants to see the workplace reopened.
Gingrich told Woodworking Canada this week that they "have decided to say very little until the case is settled," but he reiterated that even though he feels very badly "about our workers losing their jobs, and the inconvenience this abrupt closure has caused our many loyal customers and vendors, we plan to stand by our faith and practice as previously discussed with the same."
Gingrich Woodcraft, which employed 25 workers, had been in business for 18 years.