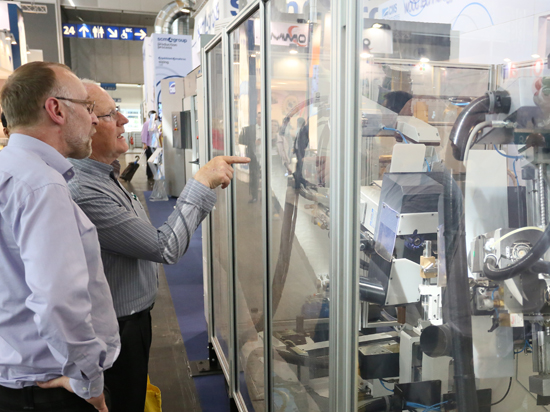 Examining automation at LIGNA.

LIGNA will highlight the pivotal role automation is playing in keeping the furniture industry flexible and competitive.
Integrated manufacturing and automation are the cornerstones of Industry 4.0 – the science of staying ahead of the competition by having intelligent, integrated and technologically sophisticated production and logistics processes. These kinds of developments continue to gather steam and are an increasingly important fact of modern life in all process-intensive industries. And that is why LIGNA 2015 is putting a major spotlight on a whole range of innovative ideas and solutions for tailoring the integrated manufacturing paradigm of Industry 4.0 to industries that process and work with wood.
The world's leading providers of automation solutions have been an integral part of the LIGNA exhibition lineup for many years. They are a diverse group, spanning everything from machine manufacturers to automation specialists, and they showcase solutions and expertise for all stages of the furniture value chain.
LIGNA will highlight the pivotal role automation is playing in keeping the furniture industry flexible and competitive. Highlights include: drive technology, robotics and automation solutions, mechanical and plant engineering, linear motion technology, assembly systems, control technology, safety solutions, system integrators, logistics and many more.
Education, Tours, Seminars
LIGNA will also offer dozens of guided tours and seminars, among them the first-ever expert guided tour of automation technology highlights at LIGNA.
Faced with ever-growing expectations in terms of efficiency and product individualization, furniture makers are increasingly turning to automated production for answers. It's a growing trend – and one that cuts across all types of manufacturing, from one-off to mass production, and all classes of furniture makers, from niche craftsmen to mid-sized manufacturing firms.
The tours take about two hours each and cater to a range of target groups by providing key insights into several specific areas of automation technology. The information will be presented in the form of a series of 10-to 15-minute presentations given at the display stands of each tour's participating exhibitors.
• LIGNA will plan and organize your tour for you.
• You can rest assured that you will gain a comprehensive overview of all the relevant automation highlights at the show.
• You will be presented with information that is tailored to your specific area of interest.
• Whatever your areas of interest, LIGNA will find the right people for you to talk to.
For more information: www.ligna.de/en/tours