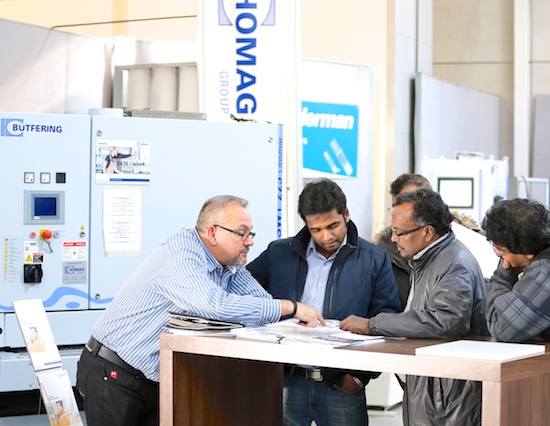 Close to 50 customers attended HOMAG Canada's Oktoberfest Open House event.

HOMAG Canada's annual Oktoberfest Open House event, held Oct. 23-24 at their Mississauga offices and showroom, was well attended and featured a wide selection of machinery, feature demonstrations on the HOLZMA saw, BRANDT edgebander, BUETFERING sander & WEEKE CNC as well as a chance to talk to machine, service and parts experts.
It was also an opportunity to network with industry's suppliers.
"We had a very good event," said Andreas Grabe, HOMAG Canada's National Sales Manager.
"I'm very pleased, we had really strong turnout, over the two days we had close to 50 customers visit our showroom.
"So, that's a really good attendance for us."
Under the tag line 'Come for the Technology, Stay for the Celebrations,' Oktoberfest also served up some traditional German sausage and other refreshments and offered the perfect setting for a chance to talk to peers and industry professionals.
Among the event highlights were Shop-in-a-Box - the complete starter package, Production Cell - 100 cabinets and more, airTec - the invisible zeroEdge from BRANDT and powerTouch - the new control system of the HOMAG Group.
And if you missed this one, HOMAG Canada will host another event at its Montreal facility on Thursday October 30.