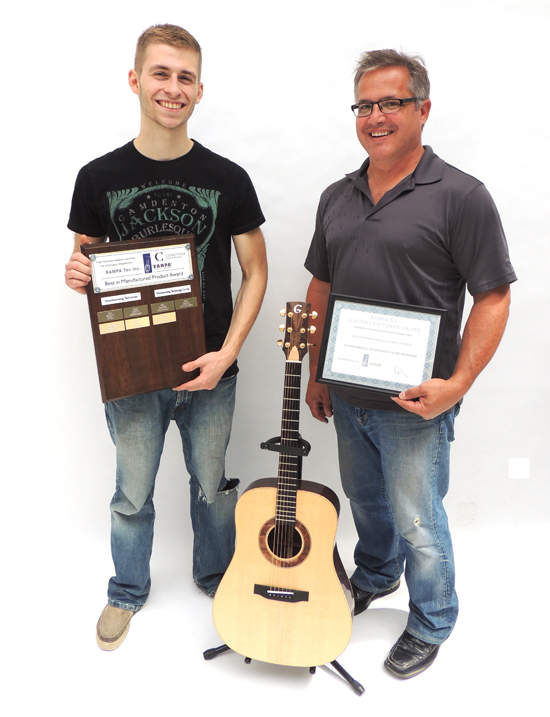 Photo: Ted Padfield
Winner Jordan Gage and Dennis O'Reilly, faculty member with Conestoga College.
Conestoga College celebrated students' excellence with its Woodworking Showcase held at the Woodworking Centre at the Doon campus on Aug. 14.
The event showcases projects designed and manufactured by Conestoga College's Woodworking Technology Co-op Students in the second year of their studies.
A variety of wood products created by the students were on display as judges selected the winner of the Rampa Tec Best in Manufactured Product award. Rampa Tec is a German-based manufacturer of industrial fasteners with an office in Waterloo.
This year's winner, as selected by the faculty team and support staff of the Woodworking Centre, was Jordan Gage who was awarded the top prize and $250 from sponsor Rampa Tec for his acoustic guitar. In addition to the cash prize, Gage's name will be added to the plaque posted at the Woodworking Centre Of Ontario.
Conestoga's Woodworking Technician program provides students with a solid grounding in the technology and skills involved in the manufacture of furniture, cabinets and architectural millwork as well as training in modern manufacturing techniques. A Chinese checker table was chosen as the runner up and a Cheval Mirror was selected as the third place winner.
There were 25 students who participating in the showcase this year. The faculty, staff and students thank Mike Wood and Rampa Tec Inc. for their continued support of the program.