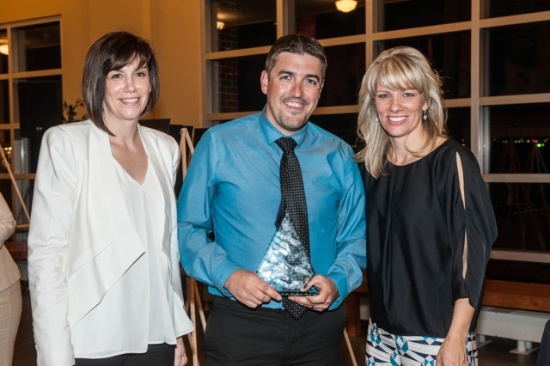 Photos: Contributed
Matt Cameron, centre, received the Peoples Choice Award for Provincial Woodworkers, the winning millwork firm. Also receiving awards were the owners of Design 360 Inc., Keri Koch, left, and Melissa Cummings, who designed the project.
AWMAC's Atlantic Chapter recently put the work of millwork manufacturers and architects/designers on display at its spring awards ceremony.
AWMAC Atlantic is a collection of architectural woodworkers and suppliers who came together in 2001 to join AWMAC Canada and form a chapter to represent the four Atlantic Provinces of Nova Scotia, Prince Edward Island, New Brunswick and Newfoundland.
Over the years and as the chapter grew, members looked for ways to showcase their successes and also connect with the architectural design community. Given the success other Canadian chapters were having with their awards events, AWMAC Atlantic launched its first Awards of Excellence in 2010 and their second event in 2012.
Building on that experience, the chapter planned this year's event with a clear vision:
- Display the projects of the best manufacturers
- Engage the architectural design community, whose visions are reflected in these projects
- Roll out an event that encouraged participation in the festivities.
Kudos to the organizing committee for scoring full marks on all three fronts.
The Awards ceremony, which was held at the Pier 21 Museum on the Halifax waterfront, was preceded by a 'Meet and Greet,' project viewing, cocktail hour and an excellent buffet and full-course dinner.
Eight project awards were given in four categories. New this year's event and awarded for the first time was the Architect Firm Award, won by WHW Architects of Halifax, N.S. and the Design Firm Award, won by Design 360 Inc., also of Halifax N.S.
One of the highlights of the evening was the announcement of the 'People's Choice Award.' This year's winner, chosen by those attending the event, was the Agricola Street Brasserie, designed by Design 360 and built by Provincial Woodworkers of Dartmouth N.S. Discussions are already underway for the next 'Awards' installment.
See all the winners in the next edition of Woodworking magazine.