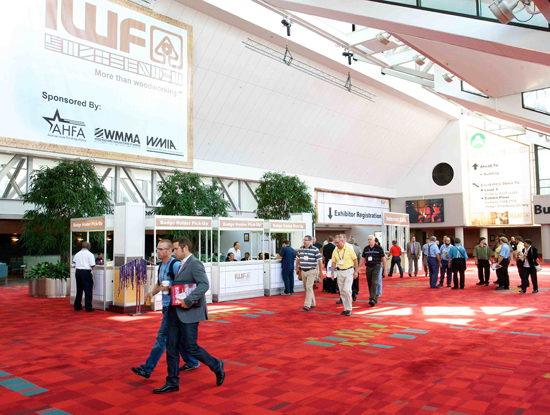 IWF Atlanta will feature more than 900 exhibitors.

IWF Atlanta is ready to put on a great show and advance registrations and exhibitors numbers continue to grow daily and are running well ahead of the last event.
"It's looking like it will be a really good show," says Jim Wulfekuhle, IWF's vice president sales & marketing.
"We have already signed up more than 900 exhibitors, that's a significant increase from the last show, and early registrations are also way up."
The International Woodworking Fair (IWF), which will run Aug. 20-23, at the Georgia World Congress Centre in Atlanta, Georgia will feature more exhibitors and more ways for business to improve, learn and survive and an extensive selection of the latest technology in machinery, products, hardware and supplies, organizers say.
Have you registered?
If not, now is the time. And use Code: WW to save a few dollars.
This promises to be a big event and with increased demand, both from visitors and exhibitors, Wulfekuhle urges everyone to hurry up and book their rooms now, as availability, especially in the popular core area, is limited.
Thousands of companies are sending their key decision-makers to IWF looking for innovative products that they can only see, test and compare at IWF.
"We are up across the board, more exhibits, more products and more attendees," says Rick Hannigan, IWF 2014 chairman and Director of Marketing Weinig/Holz-Her.
"The importance of seeing products first-hand and engaging face-to-face with industry experts is key to our industry's growth."
"There is a lot of pent up demand and people are ready to buy," Wulfekuhle says. "Everyone I've talked to is positive, there is a good feeling out there, people are seeing more demand and companies are ready to invest and grow their businesses again.
"And this show is a great opportunity for people to see the latest technology and products and also take advantage of our significantly expanded educational and seminar component."
Wulfekuhle says there are more than 50 educational sessions for manufacturing, marketing, business development, production, material processing non-wood, business management and six symposiums.
"We have really expanded the educational component this year, because people have told us they are interested and it's also a good way to introduce show attendees to new products and new ways of doing things."
In addition, there is the new product showcase, the design emphasis gallery and of course the Challenger Awards, which will be presented at 10:30 a.m. on opening day, Aug. 20.
Another first this year will be an Opening Night, also on Aug. 20, from 5-7 p.m.
There will be industry events at participating hotels - details will be emailed to guests - and on Aug. 21, after the show, there will be IWF America's International Reception (also known as Canada Night) with an open invitation to all Canadian show attendees. A Latin American reception will also be held on the same evening.