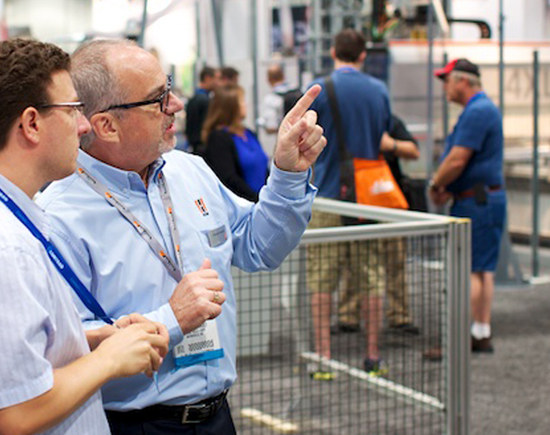 Photo: Woodworking
Claude Arsenault discusses product details at AWFS.
To say Claude Arsenault is packing it in may not be quite accurate.
He is however, getting ready to pack his bags, because travel is on his agenda.
Claude Arsenault, vice president of sales & operations of HOLZ-HER Canada is officially retiring at the end of July.
After 28 years with the company it is time "to enjoy life."
"I have really enjoyed it here, HOLZ-HER is a great company, a family company and I've worked with many great people here and in the industry, and I will miss them," Arsenault says.
"But I am looking forward to spending more time with my wife (Therese), we want to travel and play golf and she has a long list of things she want me to do around the house."
Before he started at HOLZ-HER in 1986, Arsenault spent 12 years with another company, a supplier to the industry.
"I started at the very bottom," Arsenault remembers. "I was a salesman, but we also loaded the trucks at night, I learned the business from the bottom up."
It was through a friend who worked at HOLZ-HER, that Arsenault heard they were looking for a salesman. He applied, got the job and never looked back.
He took over as VP in charge of Canada in 1996 and says he has loved every minute of the job with the company. In fact he still does.
"It's a really good company, it's a family company and even now that we are part of WEINIG, the 'feel' of the company has continued as before," he says.
The business has of course also changed over the years, quite dramatically in some instances, but the basics have remained the same, namely the importance of good customer service and having a quality product.
Instead of a handshake, now there are pages and pages of contracts, says Arsenault. And instead of going to see a customer and potentially making the sale right then and there, it may now take weeks to sign on the dotted line. Everybody checks everything out on the Internet first and people do look at price more than they did in the past.
The machines and the processes have changed as well, everything is computerized and run with software. And it's more competitive with more players and with many of the newer importers competing on price.
"But you know what," Arsenault says, "an edgebander is still an edgebander and quality is still quality and quality still sells.
"Just the other week one of my salesmen was quite worried about going to see a new customer, because he was convinced he wouldn't be able to make the sale because of the many cheap imports. But I told him to do what we do, use his training and expertise and sell our quality. And guess what, he made the sale."
HOLZ-HER has grown over the years and now offers a wide selection of edgebanders, beam saws and CNCs as well as inventory management/material handling systems. And while the recession hit them just like it did every other business, Arsenault says they have been rebuilding their base and they have done it through their quality products and after sale service.
"That is something I have put a lot of emphasis on over the years," he says.
"People can't afford for their machines to be down, it is important for us to help them as quickly as possible and get their business back up and running."
Arsenault says the company is doing well and since the acquisition by WEINIG, the WEINIG Group can now offer a complete line of woodworking machinery for every need.
And while he will miss the many great people he has worked with and met over the years, Arsenault says he is very much looking forward to the change and retiring.
"I'm 59 years old now, my wife retired three years ago so it's time we spend more time together. We're fortunate, we're both healthy and have a lot of common interests so this will be great, and we are in good shape.
"We want to travel a bit, play more golf, ride our bikes and enjoy the Jazz Festival in Montreal this summer," he says
Arsenault will also continue to play hockey twice every week and spend time with friends.
"And I want to do some renovations on the house and as I said earlier, my wife has quite a to-do list for me, so I will still be busy. But I'm l looking forward to it, it will be great."