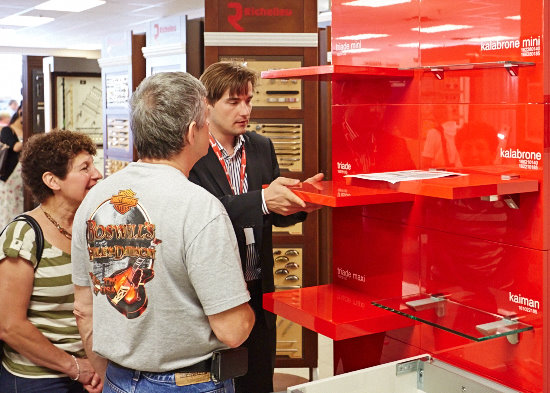 Hundreds attend Richelieu's Trends Event.

Richelieu Hardware hosted its 2nd Annual Trends Event on June 5.
The daylong event, which was held at Richelieu's facility at 6420 Viscount Rd., in Mississauga, Ont.
 showed off the latest trends and innovative new products from North America, Europe and around the world.
Organized for Richelieu's regional customers and the design and architectural communities, the Trends Event was the first chance for many to see the latest designs, many first unveiled at the recent EuroCucina, all in one place and close to home.
"We are ecstatic about the event," says Rick Hurst, industrial sales manager with Richelieu Hardware. "It was very well received by our customers and this year the weather also cooperated and we were able to put on a great show."
"This is the second time we've held this event and with growing participation - we had 426 people come out to see the latest products from 38 vendors - we are planning to do it again next year," Hurst says.
In addition to popular new product showcases, Trends Event was also the place to talk to product experts, take in a seminar as several guest speakers discussed everything from profit improvement planning to lighting and sliding hardware solutions, and take advantage of some great promotions and giveaways. Participants also enjoyed a barbecue lunch and refreshments were served throughout the day.