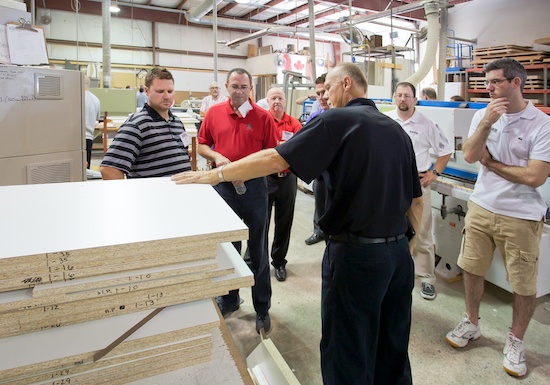 At last year's CKCA Regional Meeting in Chatham.

The Canadian Kitchen Cabinet Association is getting ready for its second annual Eastern Regional Meeting in Moncton, N.B. June 9-10.
There is still time to register and attend this great event and networking opportunity. This is the CKCA's second of three regional meetings, the third one is scheduled for Sept. 9, in London, Ont.
CKCA events always feature a great mix of shop tours, networking opportunities and mingling with fellow woodworking professionals, as well as an afternoon of golf.
The Moncton meeting will kick of at 5:15 p.m. on June 9, with registration, followed by a 5:30 p.m. reception and boat cruise on the Shediac Bay, departing from 60 Pointe-du-Chêne Wharf Rd., Pointe-du-Chêne, N.B., followed by dinner at Captain Dan's Waterfront Bar & Grill.
On June 10, there will be a 7 a.m. Networking Breakfast, in the Monte Carlo Room of the Hotel Casino New Brunswick. Breakfast will be followed by three shop tours at Glenwood Kitchens Ltd., Wildwood Cabinets Ltd., and Triangle Kitchen.
Glenwood Kitchens Ltd. was founded in 1973 and manufactures some of the finest custom cabinets using only the best materials and craftsmen available. Glenwood is a family owned business, which employs more than 100 local people in their state-of-the-art manufacturing facility.
Wildwood Cabinets was founded in 1976 and as one of Eastern Canada's leading cabinet manufacturers has diversified their business into a wide range of products from kitchen cabinets to institutional furnishing and large multi-unit commercial cabinetry.
For over 30 years Triangle Kitchen has built its reputation as a leader in manufacturing and wholesale distribution of quality cabinetry products and accessories. Light refreshments will be provided at each plant tour.
After lunch, there is an optional golf tournament at Fox Creek Golf Club with a modified shotgun start scheduled for 1:15 p.m.