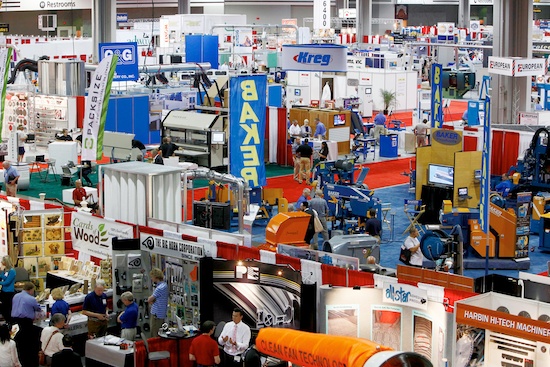 IWF, which will run Aug. 20-23, at the Georgia World Congress Centre in Atlanta, Georgia, will feature more exhibitors and more ways for business to improve, learn and survive.
The International Woodworking Fair (IWF) in Atlanta is preparing for a strong show with more exhibitors and more visitors.
Jim Wulfekuhle, vice president sales & marketing, says they have already signed up more than 800 exhibitors, a 10 per cent increase, and early registrations are running 38 per cent ahead of the last show.
IWF, which will run Aug. 20-23, at the Georgia World Congress Centre in Atlanta, Georgia, will feature more exhibitors and more ways for business to improve, learn and survive and it will feature an extensive selection of the latest technology in machinery, products, hardware and supplies, organizers say.
There will be machinery ranging from robotics, CNC's and advanced material handling to tooling as well as finishing equipment, hardware, flooring and countertops, software and supplies and much, much more.
In addition to the latest technology, the largest exhibition for the industry in the U.S. will also offer more than 50 educational sessions for manufacturing, marketing, business development, production, material processing non-wood, business management, six symposiums, a new product showcase, the design emphasis gallery and of course the Challenger Awards, which will be presented at 10:30 a.m. on opening day, Aug. 20.
Another first this year will be an Opening Night celebration, also on Aug. 20, from 5-7 p.m.
There will also be industry events at participating hotels - details will be emailed to guests. And as part of this year's IWF, Canadian show attendees are invited to a special IWF America's International Reception on Aug. 21. Held right after the days' show, the event is a chance to relax after the busy day, enjoy free food and drinks and meet with fellow Canadians. A Latin American reception will also be held on the same evening.
Mood is upbeat
IWF 2014 Chairman Richard Hannigan, vice president of sales for HOLZ-HER U.S.A., says he is looking forward to a great show and adds that the mood among exhibitors is "extremely upbeat" with the industry experiencing some real growth.
Hannigan says the International Woodworking Fair in Atlanta is the trade show where the most top management and qualified buyers go to source their products and find solutions for their business.
"These professionals come from a broad range of industries related to the cabinetry, architectural wood, home furnishings, business furnishings and related material processing machinery, supply and service industries," he says.
"They are looking for products like CNC machinery, tooling, lumber, finishing, sharpening, laminates, hardware, adhesives, moulding, doors, windows, routers, saw blades and accessories and much more, and IWF can connect them with the customers they are looking for.
"We reach over 66,000 qualified buyers with our promotional pieces and connect the world to the Americas."
Hannigan says IWF is a must-see show and offers the largest showcase of machinery, materials, supplies, and services in the western hemisphere for woodworking and related industries.
"IWF has what's new and what's next for technology for your industry and thousands of new products are showcased by the world's top manufacturers of machinery, supplies and services.
And whether you're a large plant or a small shop, IWF is the industry's premier event in the U.S. for education, networking discussions, machine demonstrations, and learning how to maximize production efficiency."