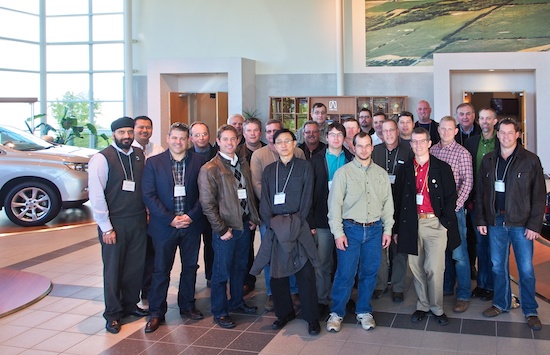 Lean Mission participants at the Toyota factory in Cambridge, Ontario.

More than two-dozen wood products businesses and suppliers participated in a Lean Manufacturing Mission organized by FPInnovations in Toronto and Winnipeg this past fall.
The mission enabled participants to visit businesses recognized nationally for their successes in implementing Continuous Improvement (CI) principles. Tour participants came from across Canada to see, learn and share innovative technologies, processes and manufacturing best practices.
"We were very pleased with the interest in the Mission," says FPInnovations Member Relations Manager Roland Baumeister. "It shows that companies understand now more than ever, that they need to look outside of their own businesses or sectors to learn what others are doing differently."
A great number of wood products manufacturers are already sold on the benefits experienced from applying continuous improvement manufacturing principles. But despite this knowledge, the majority of Canadian wood products manufacturers are not applying these principles and realizing the full benefit available to them.
Low inventories, technology to produce on demand, and relocation to smaller premises are proven CI solutions that have been implemented by many over the past few years. However, companies are frequently facing the challenge on how to put CI theory into practice on the plant floor. For tour participants, learning and seeing first-hand how successful companies were in implementing CI was the primary purpose of attending the Mission. The wood products industry can learn from other sectors and having the chance to ask questions and see implementation techniques was the highlight of the tour.
"The tour was particularly valuable to see how other businesses deal with common manufacturing issues," says Reg Tucker, general manager of Viceroy Homes. "There were many things we learned from the Mission. The one point that stands out for me was the importance of communication with your supervisors, production staff and customers. If you get the optimum from the first two you will get the optimum from your customer."
"Most apparent on the tour was that Lean practices can be implemented for any type of business regardless of the type of business or volume of revenue generated," says participant Darcy Johnson from CMI, in Saskatoon.
"One key point observed during the tour was the amount of statistical tracking information shared with any employee wanting to know how their company was performing. Revenue, production, company safety records and much more were displayed. I believe this kind of information sharing boosts employee morale because they feel more connected with the company."
Since the tour, Johnson says his company has been brainstorming about better ways to organize their shop, implement a job board and better track production.
The mission kicked off with a short icebreaker session where participants met one another. This was followed with stops at six manufacturers, each at different stages in their Lean journey. Some of these businesses were focusing their improvements efforts on their order entry process, others were working with their employees on improving their production tracking, while others were implementing continuous flow and optimizing their facility.
A mission highlight for the participants was a tour of the Toyota manufacturing facility in Cambridge, Ontario. Toyota is recognized as the founder of the Toyota Production System (TPS). For attendees, it was a real eye opener on the power of committing to change, and then practicing continuous improvement principles daily in a systematic way.
One of the wood products manufacturers visited was Tekwood. Tekwood is a subsidiary of Teknion - a leading international manufacturer and marketer of mid- to high-end office systems and related furniture products. At Tekwood, great effort is focused on improving on-time delivery, cost and quality. Using Lean tools such as 5S, Job Standardization, and Value Stream Mapping is helping them meet their goals.
The power of the House of Lean as a main teaching tool was highlighted in the stop at Ontario Drive and Gear (ODG). At ODG, the four foundational principles - Employee Training, 5S Workplace Organization, Employee Involvement and Maintenance Excellence were being emphasized. Since starting on their Lean journey, they have seen significant changes and improvements.
The mission wrapped up in Winnipeg with visits to Boeing and Duha. As a large manufacturer producing complex parts, Boeing has invested in a dedicated CI team that works with the individual departments in areas that includes determining right-sized equipment and simplifying CI processes for production staff. Duha recognizes that all employees have a stake in the success of the company and has been implementing CI principles not only on the plant floor, but in the office as well. With key performance indicators and Lean tools available to assist in their continuous improvement effort, they have invested in teaching and training all their employees.

At the end of the Mission, participants were asked about their impressions and any takeaways that they could use at their own facility. Some of the key points observed by the group included:
• Manufacturing processes had been combined
• Key performance indicators were posted and discussed during meetings with employees on the shop floor
• Communication with employees occurred on a consistent basis
• The work environments were clean, organized and lighting was bright
• CI was being implemented in areas other than production.
Around the world, small and large companies are using CI techniques to increase the value and quality of their products, with the end result of improving their bottom line. CI techniques quickly cut production costs and inventories to free cash, which is critical to any businesses. It also supports growth by improving productivity and quality, reducing lead times and freeing huge amounts of resources. For those Canadian manufacturers who are not yet implementing continuous improvement principles - the time to start is now.
Learning More about Lean Manufacturing
There are a number of excellent sources of information on Lean manufacturing. For those wanting to get an overview of Lean, the book, The Machine That Changed The World, by James P. Womack, Daniel T. Jones and Daniel Roos is a good place to start. For more detailed information, Taiichi Ohno's Toyota Production System (TPS), is also very insightful. Ohno is universally regarding as the father of TPS, and one of the key driving forces in helping Toyota become a success.
More information on Lean can be found at the Lean Enterprise Institute (www.lean.org), and other sources on the Internet.
To learn more about other Lean success stories, visit: www.solutionsforwood.ca/home/ or check out this FPInnovations video: www.youtube.com/watch?v=5d268LAFGlM

For more information on this topic, contact Roland Baumeister, roland.baumeister@fpinnovations.ca
FPInnovations (www.fpinnovations.ca) is a not-for-profit world leader that specializes in the creation of innovative solutions in support of the Canadian forest sector's global competitiveness and responds to the priority needs of its industry members and government partners. It is ideally positioned to perform research, innovate, and deliver state-of-the-art solutions for every area of the sector's value chain, from forest operations to consumer and industrial products. For more information on this topic, contact Roland Baumeister, roland.baumeister@fpinnovations.ca