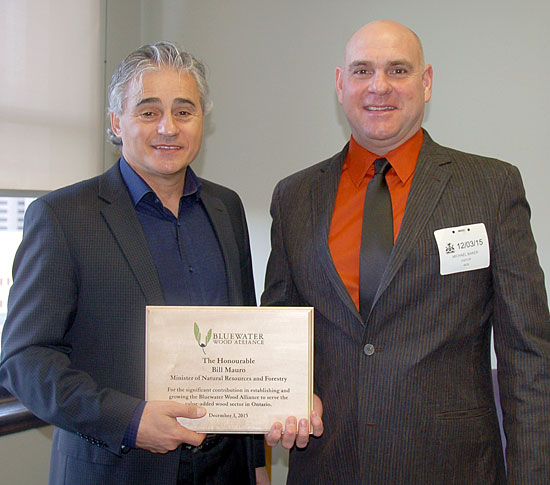 The Hon. Minister Bill Mauro (right) of the Ontario Ministry of Natural Resources & Forestry with Mike Baker, Blue Water Wood Alliance executive director.
The Bluewater Wood Alliance - a not-for-profit group, which represents a 'cluster' of wood product manufacturers working together for the prosperity of their companies and the industry as a whole - continues to grow.
Now some 80 members strong, the Alliance, initially established in Midwestern Ontario, has recently expanded its geographic reach to include Southwestern Ontario.
Bluewater Wood Alliance was formed in 2011, after careful planning and looking at what others – in this case the Europeans – are doing to stay competitive in an increasingly competitive global marketplace.
A study, financed by the Grey Bruce Regional Economic Development Partnership and ongoing funding from the Ministry of Natural Resources & Forestry, has helped them find and investigate a new approach to promote economic growth and sustainability in the local wood-manufacturing sector using the clustering approach that has proven successful in Europe and encourages members to work together on common problems and share technology and resources to become more competitive and take back market share from imports.
The Alliance continues to evolve toward sustainability over time with the increase in membership and development of other revenue streams. Since the inception of the BWA in 2011, the accomplishments and the reach of the BWA continue to accrue with earnest.
According to Mike Baker, Blue Water Wood Alliance executive director, had it not been for the initial support of the Ministry of Natural Resources and Forestry (MNRF) Wood Promotions Branch, the BWA would not have been able to facilitate any of the collaborative projects that have benefited wood product manufacturing companies in southwestern Ontario. These companies would otherwise not have access to these opportunities.
And to that end the Alliance presented and thanked the Hon. Minister Bill Mauro and the MNRF for supporting its operations with a special plaque presented at a ceremony at Queen's Park. Baker says the successes of the BWA are also successes of the MNRF.
A solid maple plaque was created and presented to Mauro at Queens Park on Dec 3, by BWA Executive Director, Michael Baker.
Mauro appreciated the recognition and called BWA's efforts an 'important good news story for the industry."
Among the accomplishments of the Alliance are:
• Export development projects introducing members to new markets, such as the Index show in Dubai, UAE, and the High Point Market in High Point, North Carolina
• Recent OMAFRA RED project funding to help companies adopt new technologies and initiate process improvement projects. $500,000 in funding leveraged over $3 million in member project investment over the past two years!
• Monthly plant tour focus groups where members learn from each other's challenges, solutions, best practices, and adoption of lean principles
• Learning events where members have access to subject matter experts through a shared cost model, making expertise affordable and accessible
• Quarterly Networking Events leveraging the supply chain members for expertise and technology transfer
• Participate on Program Advisory Committees for community colleges to connect industry needs with workforce development stakeholders
• Sponsorship of 20 high schools in southwestern Ontario to adopt the WoodLINKS curriculum
• Facilitate a bottom-up driven organization where industry dictates the agenda
• Most recently, the BWA has expanded the cluster region to include the whole of southwestern Ontario!
• Recently hit a milestone of 80 members
• Membership is dominated by manufacturers, with an 80/20 ratio manufacturers to suppliers