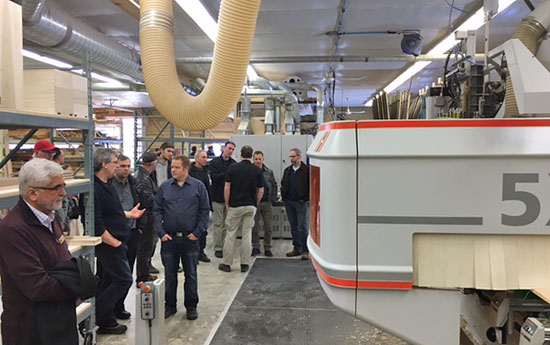 DJ's Furniture hosted a Plant Tour Focus Group for the Bluewater Wood Alliance.
The Bluewater Wood Alliance continues its successful member plant tours and another one of its popular networking events is coming up on March 30.
In January, BWA member Dave Nichol of DJ's Furniture hosted a Plant Tour Focus Group to share their latest investment in technology that customizes single customer orders and links it directly to the shop floor. The WEINIG programs EnVision and MillVision are used at the 'front end.' Once at the shop floor, ordered components are bar coded, followed by optimizing saws, and processing in 5 axis CNC centres. DJ's staff demonstrated the customer experience where everything is customized, from species, size, finish, and configuration. There is no mass production of single products in the process. The program identifies common components across orders that can be placed in sequence without impacting individual order lead times.
And in February, Formatop Inc. in Kitchener hosted 25 visiting BWA member companies despite poor weather for the region. Following an introduction by Formatop's president, Erwin Reidl, members were split up into two tour groups to see the operation and the context of material flow. Members were asked for their ideas on how to optimize integrating new equipment into the flow of mixed material and a mix of size.
The March 30, Quarterly Networking Events will be held at the P&H Centre in Hanover, Ont.
The themes for this event are 'Economic Analysis for the Wood Industry' and 'BWA Member Case Study on Lean Manufacturing Implementation.'
Peter Hall, vice-president and chief Economist, Export Development Canada, is the guest speaker and will have a special presentation for the BWA cluster. He will talk about the upside of rising risk. Risks seem to be rising everywhere, and yet many are experiencing growth. Does this make sense? And does it suggest that things are going to get better…or worse? Hear a thought-provoking discussion of the current economy and the exciting opportunities that it offers.