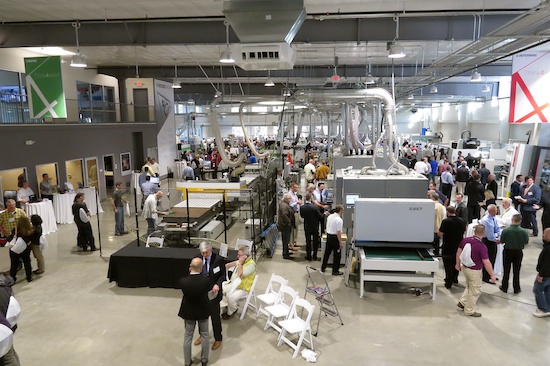 Photos: Woodworking
Some 500 customers visited Biesse's new showroom for the grand opening event.

Biesse Group celebrated a very special milestone with the official Grand Opening of its new, 23,000 sq.ft. showroom at its Charlotte, N.C. headquarters in April. The company hosted a large group of manufacturers from across the United States and Canada for the special occasion.
Attendees were given demonstrations on more than $3 million worth of cutting edge Biesse and Intermac machinery, a variety of educational seminars on leading industry topics, as well as the opportunity to work with 35 partner companies including tooling, software, banding, finance, etc.
Event Highlights
- More than 500 attendees visited the showroom
- More than 700 machine demos over the two-day period
- More than 1,500 meals served
- More than $30,000 in Biesse Group Bucks given away
- Two roundtrip tickets to Italy winner, Jeff Stanway from O'keefe Inc.
"The third phase is now complete and devoted to a new 23,000 sq.ft. state of the art showroom fully equipped with machinery designed to host custom demonstrations, in-house events like our popular Inside Events and educational events," said Federico Broccoli, Biesse America and Canada President/CEO.
"The entire Biesse team was honored to have such an exceptional response to our invitation to join us for this very special occasion."
Biesse Group also conveyed its sincerest apologies to all of the companies who were not able to join them because maximum capacity was reached quickly.
Anyone unable to participate in the Grand Opening will receive a special invitation to join them May 12-13 for the planned Encore Event.

Biesse founder Giancarlo Selci, Federico Broccoli and Niki Kampiziones cut the ribbon.