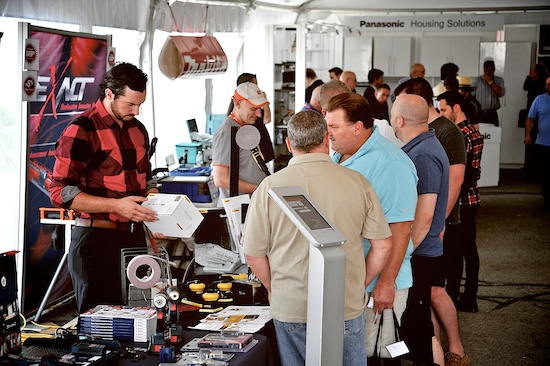 Photos: Woodworking
Richelieu's Trends Event a big success.
Richelieu Hardware welcomed nearly 600 customers to their popular Trends Event on June 2, at the new offices and showroom at 6425 Airport Rd, in Mississauga.
"We had a great event with record-setting attendance, we are just ecstatic," says Rick Hurst, industrial sales manager with Richelieu Hardware.
"This event has developed into our premier event and with 589 customers visiting we saw a significant, 150 customer increase over last year."
In addition to the latest trends - among them many first seen this spring at EuroCucina in Milan – and a good selection of seminars, Hurst says one of the biggest developments shown at this year's Trends Event was removable lighting.
Lighting is a huge trend and up until now when it failed, it was difficult to make repairs because it was nearly impossible to access the wiring on installed cabinets. But now, the lights themselves can be easily removed and replaced with new ones without having to access the wiring, and Hurst says that's a major improvement and a "new solution to an age-old problem."
"We showed a lot of new things, from innovative new hardware and our new Panasonic line to larger waste bins, new materials and fittings," Hurst says.
"And I we got a great many really positive comments about our new, 6,000 sq. ft. showroom, which gives us the room to best show off our broad product selection."
He added that customers are always welcome to stop in and have a look at their selection, try new products and see them in action.
In addition to the new showroom, the Trends Event also featured a 5,000 sq. ft. tent with more exhibitors and product specialists showing off the latest trends and products from North America, Europe and around the world.
Richelieu also operated a bus for customers from the Windsor area and Hurst says they had a number of visitors come all the way from the U.S. to take advantage of the big event.
There was hands-on training, the aforementioned seminars, on-site promotions as well as prizes and giveaways. Food and drinks were also served.
Hurst says they have already started planning next year's event, which will once again be held early in June.