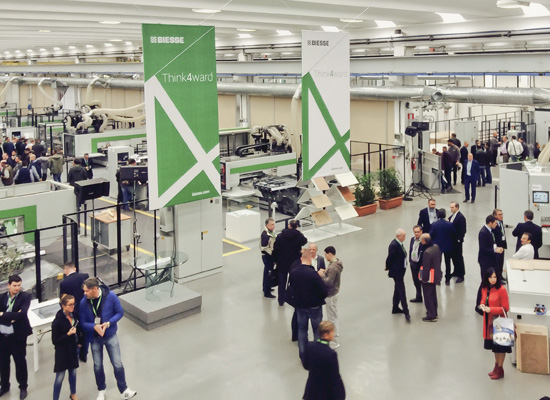 Biesse's inside event draws record crowd.

More than 3,000 registered visitors from all over the world came to the Pesaro Biesse Group Campus to take part in the traditional three-day event dedicated to the technological innovations at the service of those who work with wood and advanced materials.
Biesse reports an order intake of almost 10 million Euro, most of which originating from the domestic market, and a strong indicator of Italy's continuing economic recovery.
"Our order intake, in fact, is 250% higher than what we achieved in the previous edition and the event attracted 16% more visitors from the five continents compared to the previous one," says Federico Broccoli, wood division director / sales / subsidiaries division director of Biesse Group.
The event was great international success and a significant percentage of the new orders are directly connected to the Biesse 4.0 technologies, Broccoli says.
The "Smart 4 all" theme of this edition has allowed visitors to see the potential digitalization can offer to the manufacturing sector. 4.0-ready machines, systems and software offered by Biesse are a perfect fit for large and small companies that want to gain a competitive edge through the optimization of their own design and manufacturing processes.
A more in-depth look at Industry 4.0 industry was presented through a series of seminars held by Accenture, Biesse Systems and Wood-Skin. More than 400 customers took part in the seminars.
"These testimonials demonstrated how it is possible and convenient to set up a digitalization process within productions sites, and maintain the strong the value and skills of the employees. This is the era of the artisan's digitalization," says Raphaël Prati, marketing and communications director of Biesse Group.