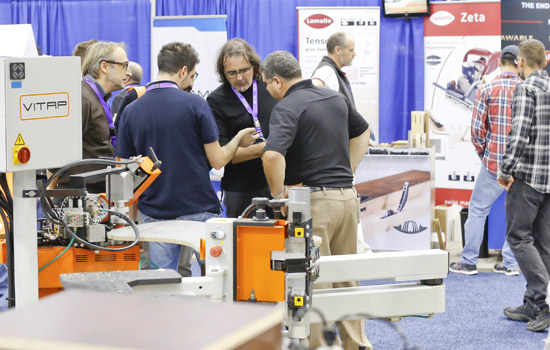 WMS 2017 returns to International Centre in Toronto.

Dates have been set for WMS 2017, Canada's largest and only national wood industry trade show.
The Woodworking Machinery & Supply Conference and Expo - the largest event for the secondary wood manufacturing market in Canada - will take place Nov. 2-4, 2017.
The show will return to Halls 1& 2 at the International Centre. A full-day conference program will run concurrently on Nov. 2. Following positive exhibitor and attendee reviews of WMS 2015, the show will again be staged in Halls 1 & 2 at Toronto's International Centre, in Mississauga, minutes from the Toronto International Airport.
WMS will partner with the University of British Columbia's Centre for Advanced Wood Processing for a full-day conference program. The WMS education program is guided by an exhibitor and industry steering committee established during the planning for WMS 2015.
Momentum continues for an even bigger edition of the show and conference in 2017. The last event attracted 5,400 total attendees, more than 260 industry brands were represented in 50 product categories and 35 countries were represented.
WMS 2015 also featured 20 conference and free education sessions.
New ownership expands WMS resources
Since WMS 2015, CCI Media, LLC of Cedar Rapids, Iowa, acquired the Woodworking Network and all related assets – including the Woodworking Machinery & Supply Expo -- from Vance Communications Canada.
"WMS 2015 in Toronto is coming off its second event with double-digit growth springing from the renewal of the secondary woodworking market in Canada," says Tim Fixmer, CEO of CCI Media.
"We plan to add more education and a reinvigorated attendance promotion program utilizing our long-standing media partnerships in Canada, and our growing database for promoting the 2017 event."
WMS will feature three days of education sessions, hands-on demonstrations and the largest exhibition of woodworking machinery, supplies and software in Canada.
For more information about WMS 2017, visit www.woodworkingexpo.ca