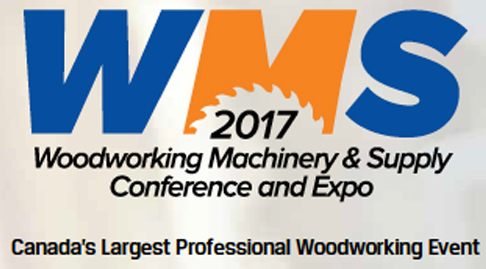 Included in this year's Woodworking Machinery & Supply Expo conference programming will be a full day devoted to small and large shop best practices. The best practices track will be part of the expanded conference program at the International Centre, Nov. 2-4 in Mississauga, Ontario. All WMS conference sessions will be held in the International Centre's newly remodeled Conference Centre.
Harry Urban, WMS manager, said past attendee surveys reveal the need for more advice for running a shop, large or small.
"Our sessions devoted to best practices will cover everything from basic 'what not to do' advice to lean principles and Industry 4.0," he said.
This year's Nov. 2 conference luncheon speaker is Sylvain Garneau, CEO of Groupe Lacasse, one of Canada's largest commercial furniture manufacturers. Garneau is also the first Canadian to chair the Business & Institutional Furniture Manufacturers Association, North America association.
Additional presenters include: Will Sampson, editor of FDMC Magazine; Brad Cairns, Center for Lean Learning; Mike Baker, Bluewater Wood Alliance; Sepp Gmeiner, Lignum Consulting.
As in past years, WMS has worked with Canadian woodworking industry leaders to develop its curriculum.
"We are proud to be partnering with some of the most important associations and institutions in Canada in the development of our agenda," said Urban. Also included in the programming for WMS 2017 are sessions by the Canadian Kitchen Cabinet Association, the Architectural Woodwork Manufacturers of Canada, the Bluewater Wood Alliance, and the Centre for Advanced Wood Processing and Conestoga College.
Attendees of WMS 2017 will also have the opportunity to participate in a tour of ProPly Custom Plywood Inc. in nearby Brampton, Ontario. The tour is slated for the afternoon of Nov. 2.
WMS 2017 Conference Tracks: Finishing Materials and Techniques, Cabinet Manufacturing, Design & Marketing, Trends in Panel and Hardware, Small & Large Shop Best Practices.