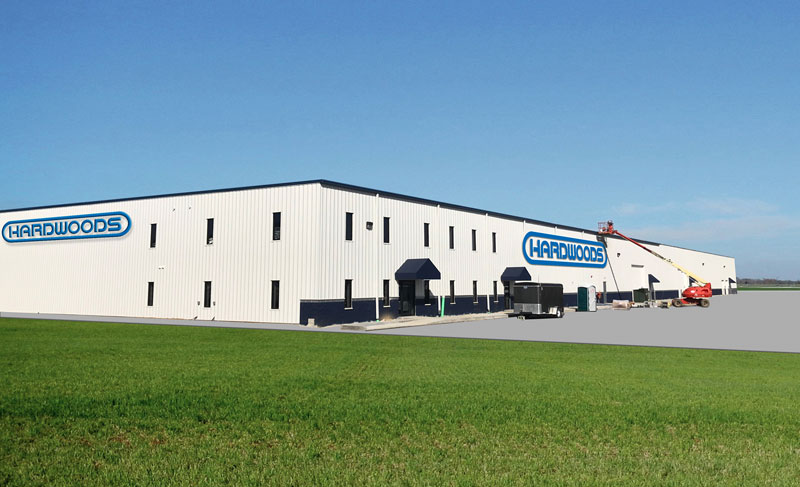 As a result of exceptional company growth, Hardwoods Specialty Products has relocated its Elkhart, Indiana distribution operations to a larger, newly constructed facility at 5430 Beck Drive Elkhart, Indiana.
Meeting customer demand for a more diverse product offering, significantly increased volumes, and faster delivery or pick-up required Hardwoods to provide additional customer support staff and a larger, more efficient "purpose-built" facility. The new 135,000-square-foot building with 7,500-square-foot of office space opened April 30.
"The Northern Indiana market and the other three Midwest locations have grown by leaps and bounds over the last few years due to a robust economy. This is all driven by our thriving customer base," said Jason Sencaj, general manager of the Hardwoods Midwest Division.
"Hardwoods' customers and our own people continue to be the company's most valuable asset. I believe that by helping our customers succeed, we succeed too."
To better serve its customer base and support other Midwest distribution facilities serving markets throughout Indiana, western Ohio, Illinois, northern Kentucky, northern Missouri, Michigan and Minneapolis, the new facility offers multiple loading docks, bays for indoor loading and unloading, as well as dry overnight storage for the Hardwoods fleet of semi's thereby ensuring a cleaner, drier product offering.
A greatly expanded racking system has been configured to provide operating efficiencies in fulfilling customer orders for an assortment of panels, lumber, edge banding and mouldings. The custom-designed office furniture was fabricated using the same high quality materials Hardwoods offers; Dragon Ply imported hardwood plywood panels, Querkus architectural decor panels by Decospan, EGGER TFL, HPL & edge banding, Neucor lightweight MDF core, Reflekt, locally sourced red oak and hard maple lumber and reclaimed lumber. The new facility allows for expanded stocking opportunities in TFL, MDF, hardwood lumber, custom mouldings & S4S, particleboard, imported panels and drawer sides, EchoWood reconstituted wood veneers, domestic hardwood plywood, and other market leading and innovative products.