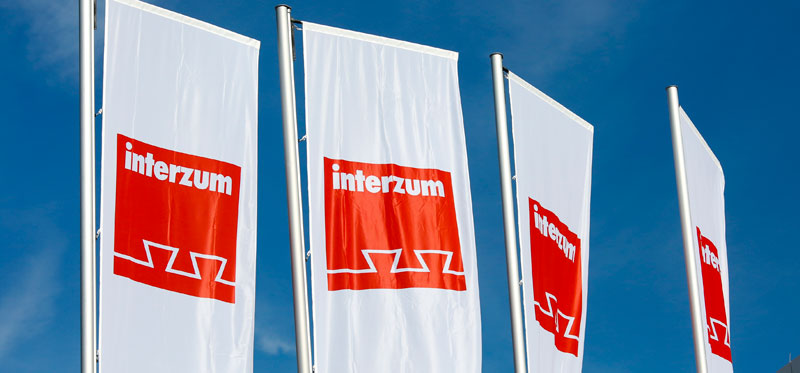 interzum will take place May 21-24, 
in Cologne, Germany and the world's leading trade fair for furniture production and interior design will offer a bigger and better show this year thanks to a significant increase in the number of exhibitors.
Exhibitors will once again use interzum to introduce their innovations to an international audience and will be showcasing an exciting and extraordinarily wide-ranging mix of new technologies, materials and surfaces at the fair.
 As drivers of innovation and suppliers of the entire interior design industry, they are important partners in the development of new products and design trends. And it is this wide range of the latest materials, components and manufacturing processes, trends and visions for future living spaces that make interzum such an important show.
Topics such as resource conservation, sustainability, living in a small space and the increasing interest in digitalized products and production are all covered here. Its innovative strength makes interzum particularly interesting for creative professionals.
interzum represents the entire spectrum of the global market, and provides an overview of innovations and trends that is unparalleled worldwide.
And at this year's interzum, the "Materials & Nature", "Function & Components" and "Textile & Machinery" segments, allows visitors to find exactly what they are looking for as conveniently as possible.
At interzum visitors will find answers to the key questions affecting the market, among them a special showcase of innovative materials for furniture and interior construction that are lighter, thinner, more compact, more flexible and more durable.
A major focus of the event will be placed on "Disruptive Materials – Changing the Future," a slogan chosen by the agency HAUTE INNOVATION, which will showcase some of the latest material innovations and disruptive technologies at interzum 2019. Also of great interest is digitalization, sometimes referred to as the fourth industrial revolution. Its effects 
are also evident in consumers' 
living spaces.
These effects range from the digitalization of the furniture industry and the new experiences on offer when choosing and buying interior fittings, right through to innovative business models.
And with its new 'Focus on Consumer Trends!' piazza, interzum 2019 will also explore various ways this trend impacts living environments.
The practical, forward-looking examples presented at the piazza will provide manufacturers and fitters 
with new ideas to work with.
The special exhibition will use three areas, each representing a global consumer trend, to show interior designers, furniture manufacturers and retailers how they can fulfill customer requirements. Each of the sections highlights certain aspects of these trends. The first area focuses on conscious, sustainable living. The topics here include consumer expectations of solutions for smaller living spaces, furniture hire and sharing models for living areas and workspaces, as well as sustainable production, utilization and recycling.
Another trend, and one that has been challenging the furniture industry for some time, is consumer demand for the individualization of living spaces and the personalization of furniture. In this respect, digitalization is opening up a new level of freedom in terms of design options.