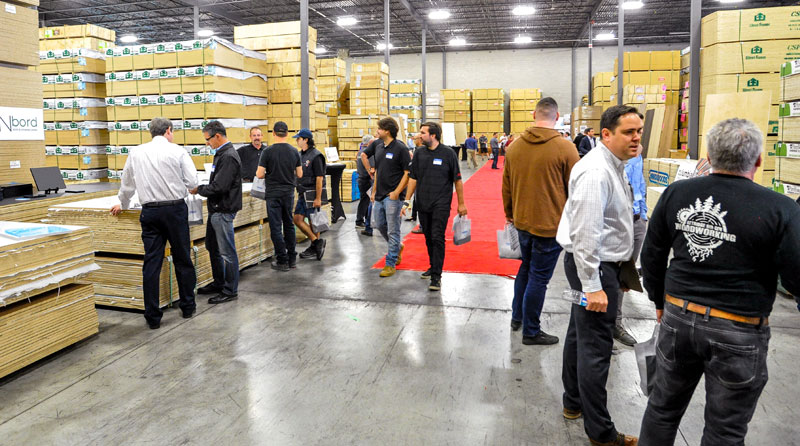 Photos: Woodworking
Hardwoods Open House and Customer Appreciation Day a big hit with visitors.

Woodworking professionals took the opportunity to see first hand where some of their most-important supplies are coming from and attended Hardwoods Specialty Products' special Customer Appreciation Day and Open House event on Sept. 12.
Hardwoods moved into their present home near the Hwy. 407 and Hwy. 427 four years ago and in June it was already time for another expansion to nearly triple the size of their new facility.
"The Toronto Open House was a huge success with attendance 50 per cent higher than anticipated," said Gord Clough, director of marketing.
"Customers past, present and future experienced the size and scope of the expanded facility, saw mountains of composite board and lumber that according to them was much more variety and volume than they expected to see." In addition, visitors saw a number of new decorative surface materials and enjoyed the opportunity to discuss the features and benefits of the product with the manufacturer's own representatives. They also got to know the branch staff, warehousemen and truck drivers that work so hard in the background and into the night to ensure that each customer's orders are accurately fulfilled and delivered on time.
The event also featured some great food and refreshments as well as a memento of the day.
The expanded facility features 12 loading doors and two ramps to expedite heavy flow of inbound and outbound freight.
Expanding the facility was necessary to handle the growing customer demands that require a broader product assortment, larger volumes, and more frequent shipments, not to mention competitively priced products.
The facility opens daily at 6 a.m. and the evening shift that prepares the next day's orders works until 11 p.m.
Hardwoods Specialty Products is North America's largest distributor of architectural building products to the residential and commercial construction markets. The Company operates a North American network of 61 distribution centres, as well as one sawmill with kiln drying operation.