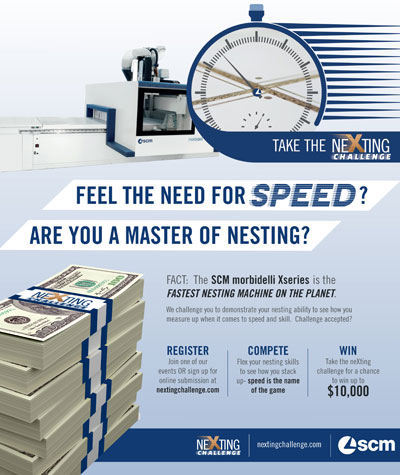 SCM Group has launched a unique program that challenges the woodworking community to test their nesting skills for the chance to win up to $10,000.
SCM is so confident in its morbidelli X-series machines that it has developed a competition for the entire woodworking community (operators, competitors, etc.).
SCM and its dealer network will host several events throughout the U.S. and Canada during their neXting challenge tour.
It all starts at SCM's North American headquarters in Duluth, Georgia Feb. 11-12, and ends in Toronto, Ontario Oct. 22.
These events will provide attendees the chance to compete on their morbidelli X-series; the opportunity to sign up for customized demos and one-on-one consultations; learn about nesting best practices, machine maintenance and data output to maximize efficiencies, and much more.
Operators can also sign up for online submission in lieu of attending a neXting challenge event. Unbiased judges will judge the challenge solely on speed and quality and the winners will be rewarded at IWF in Atlanta, Georgia. First place will be awarded $10,000, second place wins $5,000 and third place will take home $2,000.