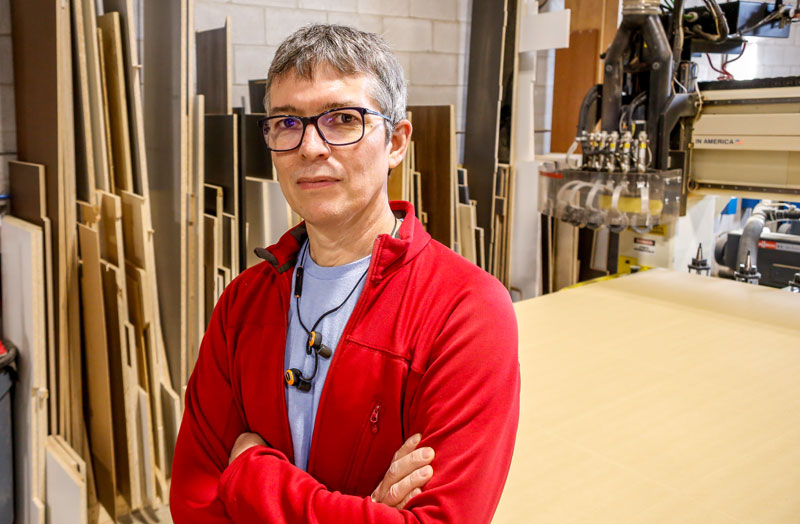 Photos: Woodworking
Editor's Note: This is part two of a series focusing on technology and how it can build and transform business. Part 1, in our September/October issue, looked at how Top Notch Cabinets uses technology to address everything from day-to-day operational challenges to broader business strategies.
Alain Albert has been in the industry for more than 30 years and when it came to opening his new company, Woodoer, he knew he wanted to use the latest technology and all of his knowledge and experience to develop a new and innovative concept.
"What we do at Woodoer is new. Essentially, we're a digital manufacturing service for hire. Manufacturing as a service (MaaS)," Albert says.
"In short, we're an extension of our customers' manufacturing operations, adapting our construction methods to exactly what they need whether it's programming jobs, cutting and edgebanding, assembly and shipping.
"What we don't do is go into people's homes to measure or design room layouts (although I've helped a few of our customers with this), and we don't paint or install."
When he decided to start his company, Albert - who's worked the previous 10 years with FPInnovations as a digital manufacturing specialist - knew he was going to use available technology to the max, as it offers the best solution for himself and his customers.
"Over the years I figured out that one of the big challenges in the industry is the whole design/programming process," he said.
"I decided to explore different tools that can help them with that. The goal is if they can send me a file and we can manufacture it for them, this would simplify everybody's life.
"I created an online web configurator for my customers," he says.
This is an online tool that helps users to configure their own bespoke designs and prices it out before placing an order.
And for customers who have the capability or prefer to have more control over their own designs, Albert has also recently added Cabinet Vision and is in the process of setting it up so customers can send him their files directly.
"I'm setting that up right now. I am developing a parts library and my customers will be able to access a catalogue of parts and just drag and drop cabinets or closets into their spaces. Then they can send me the completed file for manufacturing," he said.
"Customers can also send us drawings from other software that we can enter into production.
"The key for this to work is to do everything I can to continuously improve and simplify the process, for myself and for my customers. And by using digital technology, we are able to deliver in days rather than weeks."
To make it even more valuable for their customers, Woodoer has developed complementary product lines that their customers can add to their offering. "As of right now we have four lines of closets, cabinets, office furniture and wall beds." Customers can pick components from a predesigned product line and install it.
Architecture and design
Albert went to school to study architecture then started working in architect offices, but soon he found he needed to be more hands-on.
"So, after working at a drafting table for a while I decided to become a general contractor in Quebec and then slowly I also started designing furniture for manufacturers and from that I moved into my own furniture production. My first furniture factory in Montreal is where I bought my first Thermwood CNC in 1995. From then on, I was hooked on technology.
"My first CNC was the same I have in my shop now, a Thermwood."
Later, Albert started working for other manufacturers as production manager and designer and that's when FPInnovations came calling and hired him to help them with CNCs and digital woodworking technology.
"I was the guy helping companies with anything CNC related, software and robotics also.
"I would go in and either help companies to automate a process or help them decide which machines they needed in order to improve their production, or even just help them to solve problems they were having with their existing equipment.
"Over the 10 years I worked in the R&D sector, I visited hundreds of shops in B.C., Alberta, Ontario and Quebec, and I was able to see what works and what doesn't."
Given his experience and expertise, Albert knew that CNC technology was essential to his new company's success.
"When I bought my first CNC in 1995, I bought it from Andrew Legault of CNC Automation, and I've always had great customer service from his whole team" Albert says.
"It was only natural to go back to them this time around, plus the Thermwood CNC is the perfect fit for the range of products Woodoer builds and the software that we use."
Another criteria that was really important in his decision to partner with CNC Automation on production technology was support, and from everything he knew from all the shops he visited over the years, CNC Automation offers great customer service.
"If something were to break they'd be on it and I would be up and running again the next day, or even the same day," he says. "And that's important because I have seen shops that were down for weeks while they were waiting for a technician to fly in. These days, no-one can afford to do that."
A new service
Albert said he felt that what was missing in the industry was someone who could do the CNC manufacturing on spec.
"I figured there is a real market out there for manufacturing services. Everything from cutting boxes to making intricate carvings or whatever else a shop may need.
"And I know a lot of shops have their own CNCs, but there are times when extra capacity is desperately needed.
"So I thought, if I concentrate only on CNC work, then I can fill a need for those shops.
My focus is on manufacturing and that seems to be working," he says.
"We just finished a high end condo job in downtown Toronto, 
68 units in total and about 1,200 sheets of melamine cut and assembled in three months and my customer didn't have the capacity to do that job in-house.
"They subcontracted the job to us, sent us the shop drawings and we manufactured the closets and shipped them to the site, flat packed. The kitchens were sent assembled and they took care of installation."
Success
Albert's research appears to be spot on. Woodoer has been around for two years now and the model is working. Surprisingly, even to Albert, is the fact that he never really needed to promote the new business.
"I had plans for all kinds of social media and online campaigns, but I never had the time," he says. "And yet, I haven't stopped growing."
Once the business has grown to the point where he would need to expand, Albert has another somewhat unconventional plan. Rather than move to a bigger place or expand the current one, his plan is to add satellite locations closer to where his customers are.
That way he can maintain quick turnaround times and local deliveries.
But that won't be for another year or two.
"Right now my focus is to grow this location, I would like to have about four or five workers here in the Oakville factory."
Today, Woodoer can process up 
to 40 sheets a day (40 cabinets) with just two workers.
"My next hire is on the programming side, because right now the bottleneck is me," Albert says.
"What I need to focus on right now is to make sure the bottleneck is not me. Over the next few months, we will build a great team of digital woodworkers."
Time and room to grow
It's still early days for Woodoer, but already - after just two years - Albert says that while it has been a lot of work with many challenges, it is also incredibly rewarding and a whole lot of fun and he is "right where he wants to be."
"The main takeaway I think is that this is a new kind of manufacturing business model. We offer a manufacturing service, a strategic partnership where we act as our customer's manufacturing department and not just a store where you can buy boxes, that's the real difference," he says.
"You tell us what you want and we will build it to your exact specifications."