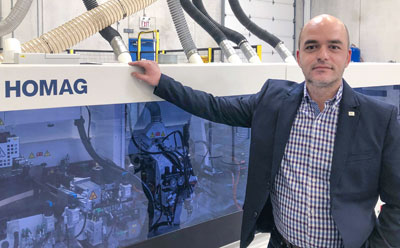 David Silva

David Silva is HOMAG Canada's new E-Tech sales representative.
Stiles in the U.S., which HOMAG Group purchased a few years ago, has had an E-Tech department for about 20 years and HOMAG Canada decided last year to bring E-Tech to Canada because "it is a perfect solution for our customers."
E-Tech stands for enhanced technology and in a nutshell E-Tech is a rebuild solution.
It is a turnkey solution for rebuilds, everything from motors to gluepots, says Silva.
"Our E-Tech program offers a wide range of manufacturing for the industry.
"Through ancillary products and upgrades to machinery, software, tooling and more, we help keep customers' equipment current and at peak performance."
"We also offer exchange programs," Silva says.
"So let's take a gluepot, if it isn't performing, the quality of your edge declines. HOMAG Canada has developed a revolutionary rebuild process to bring your gluepot back to top-level performance.
"We replace all wear items with new OEM parts and apply two Teflon coatings to restore your gluepot to original quality and functionality."
And since it can take up to three weeks for a rebuild, Silva says rather than make customers wait, HOMAG is offering an exchange program. They will give you one that is already reconditioned, so there is no waiting or delay for your business, in most cases it's same day.
A similar service is available for industrial electronics, electronic drives, spindle motors, vacuum pumps, and machining aggregates and many, many more. They'll even rebuild spindle motors from other major brands.
"Let's say on an older machine some components have become obsolete or parts are harder to find, we now have the option to provide a customer a rebuild," says Silva.
"We'll take it back and then repair and recondition it and reinstall it in the machine."
We are situating ourselves to be a turnkey solution provider for our existing and any new customer. If a customer decides they want an edgebander and a CNC but they are also looking for a compressor, guess what, we now offer that as well, Silva added.
Silva was born and raised in Brampton, Ont. and got his start in the industry early.
He worked at a large kitchen manufacturer where he also had his first "exposure" to HOMAG equipment. But not just that, it's also where he met Marco Fernandes, who recently took over as HOMAG Canada's new managing director.
He then moved to HOMAG to assist with customer demonstrations in the showroom. That's where he really discovered his interest in machinery.
From 2013 to 2018 he worked as a value-added service manager at HOMAG Canada.
At the time that meant looking after preventative maintenance and scheduling and selling those services to customers. Next, Silva became assistant service manager for HOMAG Canada and now he has moved on to the E-Tech department.