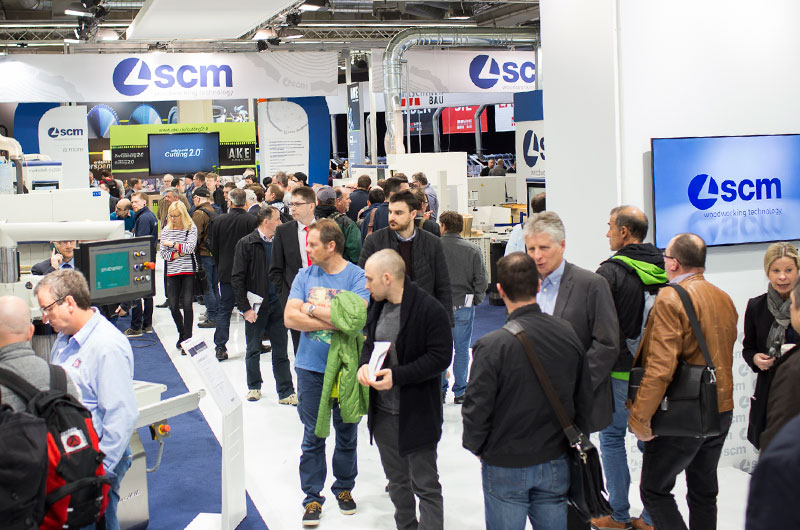 SCM Group at a previous edition of HOLZ-HANDWERK.

Due to the COVID-19 health crisis, which is affecting European countries and the rest of the world, SCM Group has decided not to take part in the upcoming edition of Holz-Handwerk 2020, which had already been postponed to June 16-19 as a result of COVID-19.
SCM said in a release that it will, however, continue to provide wood businesses with all its support, even remotely and in order to be there for its customers at all times, even from afar, during these emergency times, SCM is further strengthening its smart technologies and digital services
The company said this was a difficult decision to make given the importance of the event internationally for the wood sector, however, "SCM believes that the contextual and business conditions do not exist for a such an important trade fair."
In addition, to date, the continuing spread of the epidemic makes it impossible to predict when the global social-economic scenario will return to normal, both in Europe and the rest of the world, thus guaranteeing a return to regular operations for all those key players in the wood production chain.
SCM continues to offer its support to secondary wood processing businesses, from large industries to artisans, from furniture to windows and doors to joinery.
Technological innovation, digital factory and all-round support services to the customer are SCM's primary objectives which, today more than ever, aim to continue to remain at the side of all industry professionals with its Smart&Human Factory as well as technologies and state-of-the-art digital services which are being further strengthened in these delicate times.