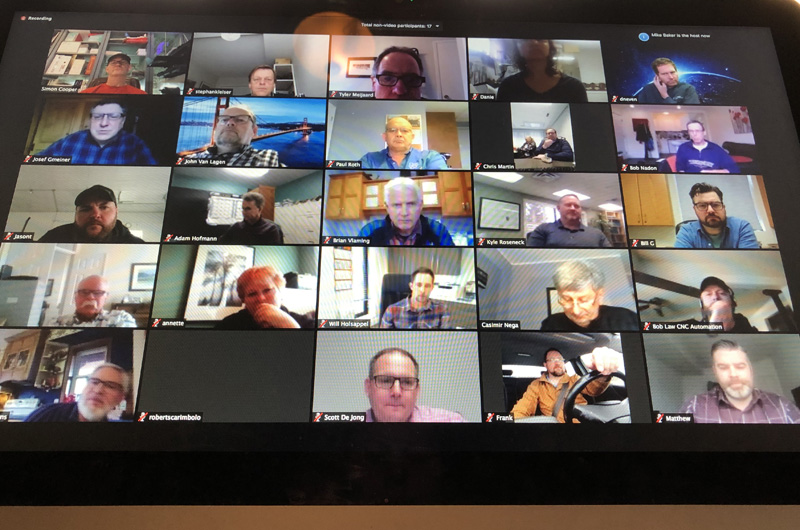 Photo: Tara Davey, BWA
Partial screen capture from BWA first Online Roundtable Networking Event on March 31.

The Bluewater Wood Alliance held its first Online Roundtable Networking Event on March 31, with more than 50 participants.
"We wanted to quickly adapt our engagement with members to an online format to be able to continue to engage our members and facilitate ongoing discussions, share best practices and hear from everyone about how and what they are doing," said Mike Baker, BWA's executive director.
He added that these regular meetings are free for members and they are also planning to add paid training events as members demand.
The first online event was an opportunity for participants to check in and hear from one another about how they are coping with the current crisis and how they can prepare to ramp up their businesses again once it is over.
The forum featured a lot of frank discussion where members shared their experiences about how they are adapting and dealing with the current situation.
Some report that their shops have closed while others said they continue to operate.
Universally, the shops that have stayed open, talked about the strong measures they have taken to keep their employees and customers safe.
From implementing stringent social distancing and much more aggressive sanitary practices, to closing their shops to all, but their own employees.
Many talked about the special arrangements they have made with their suppliers about how to handle deliveries. In many cases they have asked that suppliers drop off deliveries at the loading dock where employees take over.
April 6 meeting
"The most requested issues for our next meeting have to do with financial relief programs and managing health & safety," Baker says.
"So we wasted no time, lined up a number of experts and we are ready to go to address those issue at our next BWA Roundtable Networking Event, which has been scheduled for Monday, April 6.
"Again, this is free for our members and I can tell you we've signed up three new members within a week, because they heard about what we are doing and they want to be part of this."
Monday's meeting will offer updates of BDC and EDC efforts as well as provide information in the new Canada Business Emergency Account fund. Lucci Mihet of EDC will update members on the latest developments of these new programs; changes include EDC can now help anyone without export sales.
Other information to be provided with address:
What the law says
Emergency laws and how they're different
Duties of an employer
Essential services reviewed & defined
Risk assessment forms
Safety controls you can put in place
What kind of PPE should be worn and
how to manage this
Identify, assess & determine how to control risk areas
Identify procedures needed
And as always, the meeting will conclude with a chance for members to have a discussion and ask questions.
For more information or to join BWA follow the link: www.bluewaterwoodalliance.com
Baker says the feedback from members has been fantastic and they've really appreciated their efforts to pivot so quickly to online events to keep the conversation going.
"This really shows the advantages of being part of a cluster, to have access to resources and adapt quickly to best serve your members," he says.
And others are also taking note.
Baker has been asked to be a speaker at the April 7, online event hosted by the TCI Network, a leading global network of people and organizations working in clusters and innovation ecosystems around the world.