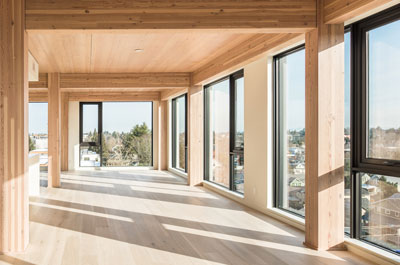 Photo: Structurlam
Example of mass-timber construction.
Construction began last month on New Land Enterprises' 25-story, timber-framed Ascent tower in Milwaukee, Wisconsin, which will have a hybrid timber-and-concrete frame.
New Land Enterprises, a developer of residential and commercial buildings, is using mass timber columns and beams instead of the traditional concrete and steel for its new East Kilbourn Avenue building.
Once completed, the Ascent tower will include up to 265 apartments and reach a height of 283 feet, which means it would just top the 280-foot Mjos Tower in Norway.
The mass timber market has been gaining momentum in North America in the past few years, but this is a first for the City of Milwaukee.
The building is scheduled for completion in early 2022.
Nail laminated timber has been done for hundreds of years, but now that it is being panelized and delivered to site it has found a new popularity. CLT, DLT and glulam are very popular as well and all of these products combined have allowed the timber industry to compete with the precast concrete world and transformed what can be done in wood.
Another advantage is he speed with which a timber building can be installed.
Speed of construction and light weight – we are talking about materials weighing about one fifth of concrete, so foundations are much less expensive - allow a wood building to be constructed quickly and on a site that has very poor soil conditions that would otherwise require extra foundation work.