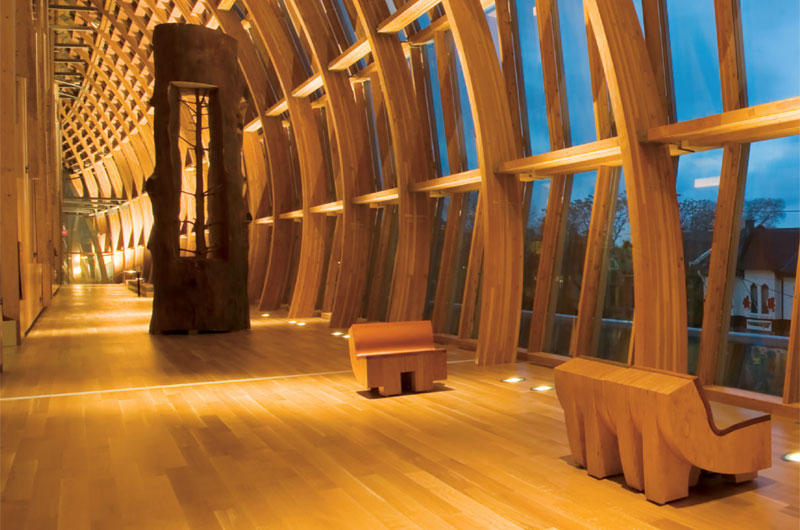 The Art Gallery of Ontario.

The HOMAG Group - in an effort to intensify its activities in the new market segment Construction Elements Solutions, which includes sustainable buildings made from wood - has acquired 80% of the shares of the Danish engineering and manufacturing company System TM A/S.
System TM is a leading supplier of optimization and systems solutions for the timber processing industry. In 2019, the company generated an annual turnover of approximately 30 million euros with 130 employees.
In addition to HOMAG's focus on the furniture sector, a new business segment is being created within the HOMAG Group. This new segment, Construction Elements Solutions, will combine timber production and processing technology along with HOMAG's existing activities. Earlier this year, HOMAG has already increased its stake in WEINMANN to 100%.
Pekka Paasivaara, CEO of HOMAG Group, says: "We want to become a system supplier for the complete process chain in the area of construction elements, including cross-laminated timber (CLT).
"We are already in a good starting position. With System TM, we are acquiring an experienced, leading manufacturer with high-end products and a high reputation in project implementation."
Markus Vöge, senior vice president sales and marketing of the HOMAG Group, says: "The business models of System TM and WEINMANN support the strategic goals in the area of sustainability. With wood as a renewable raw material, we can achieve eco-friendly buildings and healthy living environments. Additionally, the strategic partnership with Hundegger, which was initiated in 2019, will remain an important component of our new business segment."
Jan J. Samuelsen, CEO of System TM: "The company founders and former majority shareholders, Poul and Ingrid Thøgersen, have decided that now is the right time to retire, and to bring the ownership to new shareholders, who believe in the business philosophy of System TM and support the positive development of the company further on. HOMAG is the ideal partner for us, because next to our existing business in cross-cutting and finger joining solutions, it will enable us to expand into the area of cross-laminated timber. We see a good growth potential in this business segment. The new setup for us is a logical step as we have already been cooperating with HOMAG in North America very successfully."
In the future, the HOMAG Group expects the new business segment to extend economic potential from a double-digit million euro level to a low three-digit million euro range. Additional synergies in the technological field as well as in purchasing are expected.
The HOMAG Group is the world's leading provider of integrated solutions for production in the woodworking industry and woodworking shops.
System TM was founded in 1977 by Poul Thøgersen and is today a leading global supplier of automated high-end secondary solid wood processing systems. System TM is one of the largest suppliers for this sector in the world.