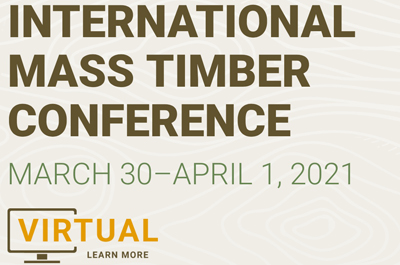 The International Mass Timber Conference, March 30 – April 1, is the largest gathering of mass timber experts in the world and attracts professionals from across the forest, manufacturing, design, development, and construction industries. And this year it will be a virtual event.
Now in its sixth year for 2021, the event focuses on mass timber manufacturing and mid- to high-rise construction.
This is your chance to explore the entire supply chain for cross-laminated timber (CLT), nail-laminated timber, glulam beams and panels, mass plywood panels, dowel-laminated timber, and laminated veneer lumber; and the opportunities and obstacles for mass timber in global manufacturing and construction.
This year's event will feature 40+ speakers, 100+ exhibitors and 1,000+ experts.
Participants will benefit from 30+ expert presentations in four tracks, with multiple sessions and keynotes that can help bring you more business today.
Networking breaks give ample time to create powerful connections that can make your next deal, move your objectives forward, and build your authority in the global marketplace.
Why virtual?
Organizer say they "were set to draw ~2,000 people at last year's conference, with even larger numbers expected for 2021.
"But due to the ongoing pandemic, an in-person gathering of any reasonable size is not feasible for our conference dates of March 30–April 1. Therefore, our move to a 100% virtual event allows us to produce a safe, cost-effective, and productive meeting and offers a host of exciting opportunities not always available at the in-person event.
"We're investing heavily to make the 2021 virtual conference a pivotal investment for your company and an industry-defining event (we truly mean that).
"This won't be just another Zoom meeting…"