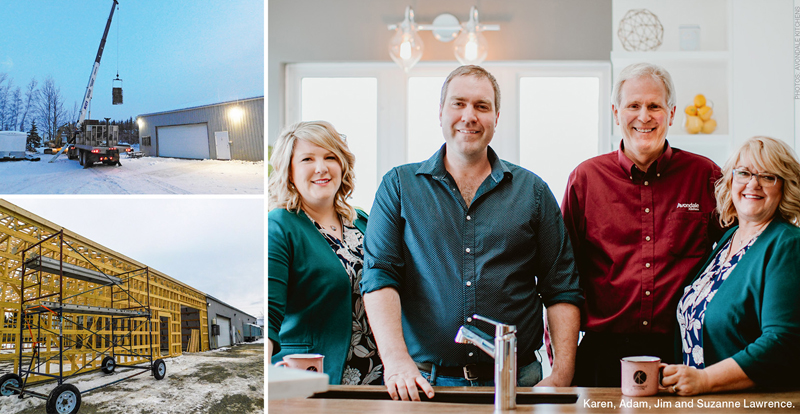 Photos: Avondale Kitchens
While many companies have seen their sales decline during the pandemic - and some more so than others - the exact opposite has been true for Avondale Kitchens of Jacksonville, New Brunswick.
"I don't like to say it, but 
COVID-19 has actually been good for us because our sales have increased around 20 percent in 2020 over the previous year," said company president Jim Lawrence.
And in part because of that growth, but also in order to create a better workspace for his employees by giving them more room, Lawrence decided to expand the company's production area by about 30 per cent.
Currently they operate out of a 14,000 sq. ft. facility, of which 10,000 sq. ft. is shop area. And once the 3,000 sq. ft. addition is complete, by about mid-April, they'll have 13,000 sq. ft shop area.
"I figured this was a perfect time for the expansion. It's something I have been thinking about for a while and now that we are seeing such an increase in business, it's good timing for us," Lawrence says.
"Usually you look at your ROI, but I just thought this is a good time to do the work. It will give us more space in production and receiving as well as for storage and all the guys are really excited about it."
Lawrence started the company in 1982 with his wife Suzanne, and their son Adam (production manager) and their daughter Karen (showroom manager) have also joined the family business.
Avondale Kitchens specializes in high-end kitchens at affordable prices.
When New Brunswick and the world started shutting down last March, Lawrence was joking with some of his Canadian Kitchen Cabinet Association colleagues, that with all these people sitting around at home and looking at their ugly kitchens, they'll soon start calling us.
And that's exactly what happened.
Also, New Brunswick's real estate boom continued because of affordability and people moving there from other provinces.
Lawrence says he gathered all the information he could and implemented safety measures and social distancing to keep employees and customers safe while they continued to operate.
And while some of his competitors pulled back, he continued to grow the business.
"Of course we are very grateful our business has increased despite the challenges and doing this expansion at this time is mostly for employee morale and to make their jobs easier."
They can now put the load-up trailer inside and not have to keep the overhead doors open and cooling down the shop in the winter time when they're loading up kitchens for next day shipments .
"We will now be able to store a bit more material for inventory and it gives us room for future technology such as a material handling system we're planning to add over the next few years.
Avondale has built a strong reputation and proudly offers a five-year warranty on its products.