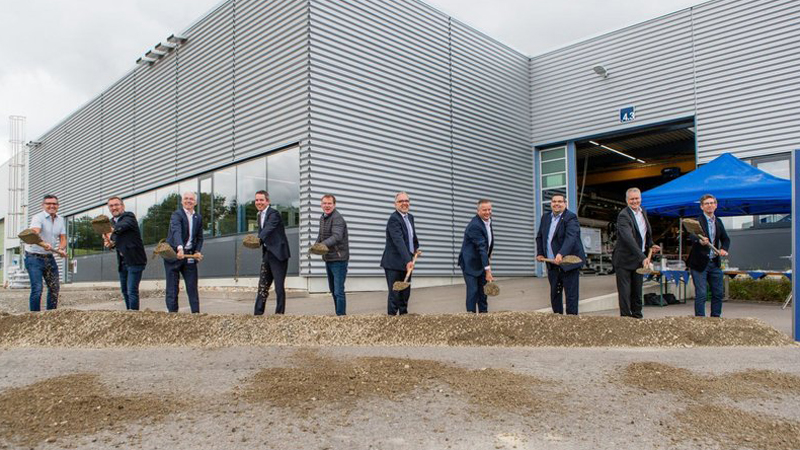 Photo: HOMAG
Work has begun on HOMAG Group's big expansion project.

The expansion of HOMAG Group's Schopfloch location has begun and the event was marked with a groundbreaking ceremony on July 7.
HOMAG Group is investing around 10 million Euros in expanding and modernizing its production capacities. The new building is part of the largest investment program in the company's history.
The extension, measuring approximately 72,000 sq. ft, will be used for assembly and shipping.
CFO Rainer Gausepohl said the new plan will enable them to close some of the assembly sites outside Schopfloch and to reduce external warehouse space.
"We will thus save rent and transport costs. But the biggest benefit of the new building lies in the optimization of processes and an improved material flow within the plant."
In addition of HOMAG Group's management team, Freudenstadt district administrator, Dr. Klaus Michael Rückert, and Schopfloch's mayor, Klaas Klaassen, were also in attendance. Rückert highlighted the great significance for the region of companies such as HOMAG.
"HOMAG operates around the world with numerous plants and locations for sales and service. We are pleased that the company's current investment also shows a clear commitment to its roots here in Schopfloch."
The new extension will be completed early in 2022. The building extension is the beginning of the largest investment program in the company's history and will support HOMAG Group's growth trajectory. As announced in April, the company is planning to invest some 100 million Euros over the next three years, between 60 to 80 million Euros of which are earmarked for modernizing the Schopfloch headquarters. It will house a customer center, modern office buildings, a contemporary staff restaurant, and a logistics center.
A new plant is also planned for Poland.