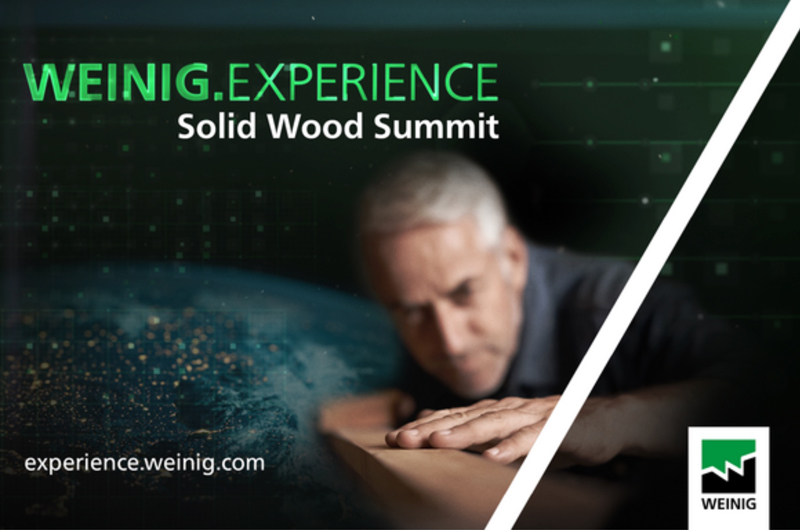 WEINIG will hold it's first-ever digital event, the Solid Wood Summit, Nov. 9-11.
For three days everyone is invited to participate in a variety of panel discussions, keynote speeches and expert interviews. WEINIG's Solid Wood Summit, will offer information on all aspects of solid wood processing, current trends, and forward-looking ideas.
WEINIG has used the last 1½ years to expand its digital efforts to serve its customers.
In particular, the introduction of digital machine demonstrations offers real added value in preparation for purchasing decisions when expanding or redesigning production lines. At the same time, existing digital solutions for customers were further improved. Several enhancements to the App Suite offer new functions and solutions for monitoring and controlling production.
To offer its customers even more, WEINIG is also introducing a new platform this year: the WEINIG.EXPERIENCE.
The name is both the program and the central anchor point and the digital home for WEINIG's future events - whether online or offline.
In November, the Solid Wood Summit will be the first, in this case digital, WEINIG.EXPERIENCE event. It will be delivered in English and German, and during the online presentation, which can be followed from the comfort of the office or home, experts will be available for feedback and follow-up questions via an integrated chat function.
The presentations will feature experts from WEINIG, VDMA (German Engineering Federation), universities and research institutes who cover the entire spectrum of the woodworking industry. From craft businesses to industrial production, from cutting to processing, from the packaging to the construction to the furniture industry – all interests and solutions will be addressed.
This range of content is rounded off by specialist talks from the field, customer reports, interviews, and specific application examples.
The event website will go live on Oct. 18 and anyone interested can start to put together their own personalized event program.