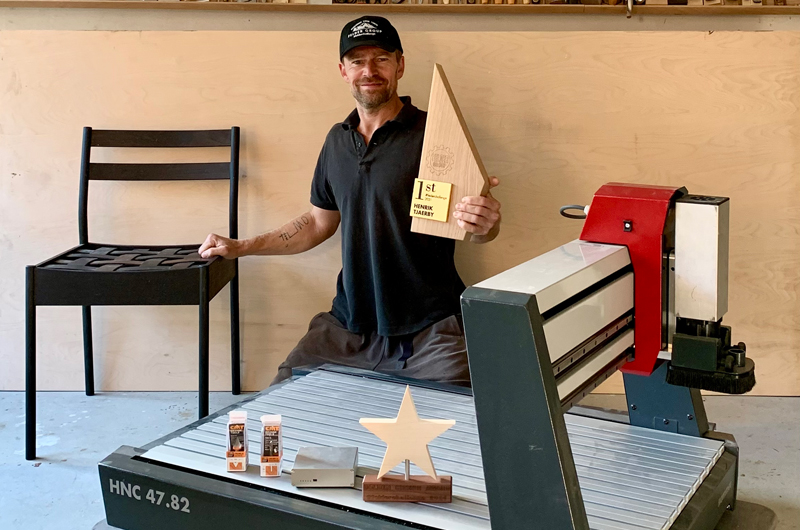 Photo: Felder Group
Henrik Tjaeby of Spain is this year's winner of the #felderchallenge.
Henrik Tjaeby has won over the judges with his woven chair and is now the proud new owner of a brand-new Hammer CNC portal milling machine HNC 47.82.
The Felder Group's has announced the winners of its #felderchallenge, a social media campaign that asked the woodworking community to submit their best DIY projects,
The aim of the #felderchallenge is to encourage ambitious woodworkers worldwide to inspire others with their project. Whether simple or complex, small or large - woodworking projects of any kind were welcome.
This year, more than 1,500 projects from more than 50 countries were submitted by do-it-yourselfers.
"It was extremely challenging to choose between the 1,500 projects submitted as the standard of all contributions was very high," says Tamara Felder, CMO of the Felder Group.
"We welcomed every single project and were excited to see how the community supported each other and especially how they motivated each other."
This year's winner is from Spain: both the jury and the other competitors were sold on Henrik Tjaerby's woven chair and he is now delighted with his new Hammer CNC portal milling machine HNC 47.82.
Tim Morend of Switzerland took second place with his camping vehicle structure and will soon be the owner of a new Felder band saw FB 510.
Austria's Johann Pastier was awarded third place for his olive-wood Styrian harmonica. He won a Felder ForKa 200 eco plus manual edgebander.