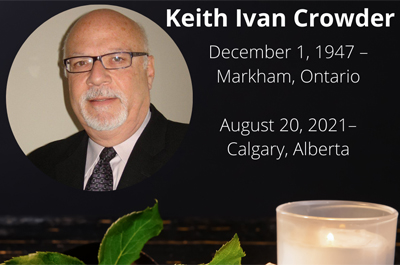 AWMAC National has announced that Keith Crowder, who for seven years served as the association manager for the Architectural Woodwork Manufacturers Association of Canada, died August 20, 2021, after a battle with cancer. His late daughter Sonja Crowder also passed away from cancer three years ago.
Crowder joined AWMAC on Oct. 1, 2010, as association manager and led the important transformation of AWMAC's Board of Directors from a management board to a governance board. He retired from AWMAC in June of 2017.
He was involved in helping to review and rewrite AWMAC's Articles of Incorporation, Bylaws, and Board Policies, with the goal being to align with the requirements of the Canada Not-for-profit Corporations Act. He also helped improve and increase the numbers of partners in AWMAC's Partner Program, along with many other significant contributions to the woodworking industry during his time with AWMAC.
AWMAC extends heartfelt wishes and prayers to Keith's family, his wife Lynne and their faithful companion, Zane.
To visit Keith's obituary to send condolences to his family, follow this link.