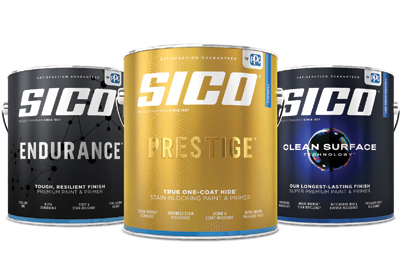 The pandemic has not only taken its toll on our lives, but also on our living spaces. That's why Sico paint brand by PPG has come up with a way to give Canadian homes a refresh — for the long term.
Sico has just announced the launch of its best paints ever – four break through, ultra-durable products described as "greatness in a can."
"After two years of using our homes like never before, homeowners are realizing that resiliency is just as important as beauty when it comes to decor," said Martin Fuchs, senior marketing manager, Sico paint brand by PPG. "At the same time, with Canadian households being busier than ever, people are looking for a quick and easy way to infuse their homes with a durable boost."
The new Sico paint products are designed to do just that, Fuchs explained. "Our new offerings meet the needs of people's changing lifestyles by maximizing quality while minimizing effort of application and maintenance – they provide the value, quality and performance that today's life needs from wall coatings," he said.
The new Sico CLEAN SURFACE super premium interior paint plus primer – the brand's longest-lasting, most stain-resistant finish – for example, sets a new standard for stain repellent washability.
Featuring more than 1,000 one-coat-hide colours, Sico PRESTIGE stain-blocking, super premium interior paint plus primer covers existing paint in a single coat. Infused with Colour Protect Technology based on PPG Automotive Coatings technology, this ultra-smooth, washable-finish paint – available in flat, eggshell, pearl and semi-gloss sheens – helps prevent colours from fading. Described as a tough, resilient, scuff-resistant finish for busy spaces in active homes or commercial properties, Sico ENDURANCE is a premium interior paint plus primer that DIY painters, residential repainters and professionals alike can depend on to stand up to wear-and-tear caused by heavy use. A one-coat time saver with long-lasting colour, the durable paint is easy to apply and goes on smoothly.
With a formulation that represents more than 80 years of know-how, research and development, Sico CLASSIC interior paint plus primer is an all-around strong performer at an affordable price. Suitable for projects all around the house, this durable paint has high hide and an easy-to-clean finish.