U.S. News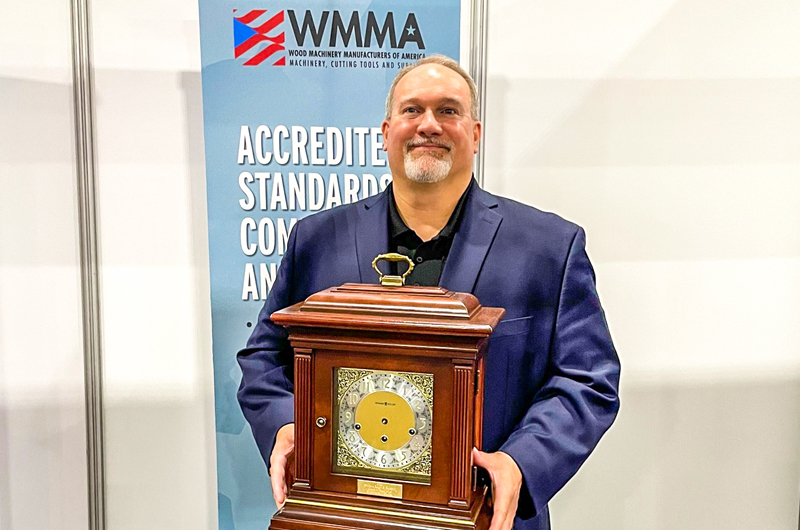 Photo: Woodworking
WMMA presented its highest award - the Ralph B. Baldwin Award of Excellence - to its past president Chris Hacker.
The Wood Machinery Manufacturers of America (WMMA), the national trade association for domestic manufacturers of machinery, cutting tools and supplies used in the processing of wood and related products, has presented the Ralph B. Baldwin Award of Excellence, the association's highest honor, to Christopher Hacker, its past president.
Announcement of the award was made during a special private reception on Monday, Aug. 22, during the 2022 International Woodworking Fair (IWF) in Atlanta, Georgia.
Hacker, who serves as vice president for James L. Taylor Mfg./JLT Clamps/Cameron Automation in Poughkeepsie, New York has a long history of service to the association and to the industry as a whole. Hacker has been a member of WMMA since 2006, and a dedicated volunteer serving in multiple roles on committees, task forces, and the board of directors.
Hacker's volunteerism with WMMA began in 2010 as chair of the International Business Development Committee. In 2011 he took charge of the newly created Business Development Committee (now the Membership Development Committee) and was responsible for improving the WMMA website and newsletter while championing new advertising programs, marketing projects, and increasing membership.
From there he quickly progressed to the Board of Directors, then treasurer, vice president and ultimately president in 2018-2020. Hacker is currently serving a six-year term (2018-2024) as WMMA's representative to the IWF Management Committee. He has also participated in numerous special projects and task forces over the years.
The Ralph B. Baldwin Award of Excellence is named for Ralph B. Baldwin, long-time member and past president of WMMA. During his career with Oliver Machinery Company and his involvement with the WMMA, Baldwin exemplified the commitment that makes an Association function at its peak potential. The award recognizes those who have made outstanding contributions to the industry, and WMMA.
As one nominator put it, "Through his leadership, he's strengthened WMMA by creating new programs and benefits for its members. His leadership has been valuable not only to WMMA but as a respected industry professional, he's improved the wood industry's image and has resulted in many strong relationships with customers in the industry."
Another nominator who has known Hacker for more than 20 years said, "In those years I have never once doubted that his intentions were most genuine in nature, always looking for the better way to accomplish growth and partnerships with all parties in mind. Not always an easy task when you're working with the strong-willed individuals we have in our industry."
"As president of WMMA it has been my honour to be part of the process of reviewing nominations and to be able to present this award to Chris Hacker, whose leadership, friendship, and dedication to the industry is recognized and respected by so many," adds Allen Eden, The Original Saw Company.
2001 Baldwin Award recipient Michael Burdis, James L. Taylor Mfg. / JLT Clamps / Cameron Automation, adds, "I have been in this industry for 45 years and you have to search far and wide to find a person with more enthusiasm and dedication than Chris. He is deserving of the Baldwin Award and may I add my congratulations."
For over 100 years, the Wood Machinery Manufacturers of America has worked to increase the productivity and profitability of U.S. woodworking machinery and woodworking tools manufacturers and the businesses that support them.