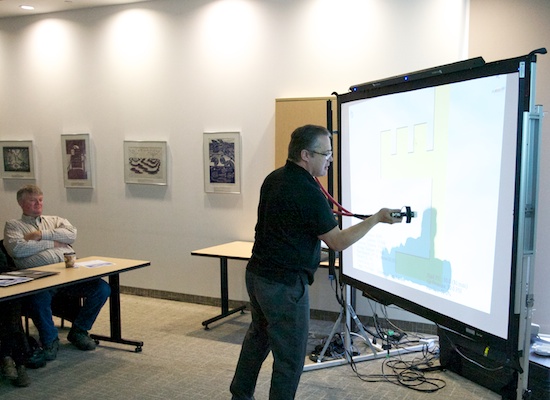 It was a packed house at Bluewater Wood Alliance's 3rd networking meeting in Walkerton, Ont. Dec. 7, as dozens attended the last regular meeting of the year to get updates from the organization and hear from finishing experts.
The Bluewater Wood Alliance is a not-for-profit group of like-minded manufacturers and suppliers, which represents a 'cluster' of wood product manufacturers working together for the prosperity of their companies and the industry as a whole. The Alliance was formed after careful planning and looking at what others – in this case the Europeans – are doing to stay competitive in an increasingly competitive global marketplace. The regular networking meetings are designed to give members an opportunity to meet and discuss business, network, exchange ideas and speak to suppliers.
And judging by the strong attendance at the meeting, the Alliance is hitting all the right notes with members and prospective members. From supplier presentations on select topics to general idea exchanges, networking opportunities and updates on industry issues, the meetings offer something for everyone. Participants heard presentations from the Wood Manufacturing Council on going global and other training opportunities. Other presenters talked about the latest in finishing: AkzoNobel/Chemcraft - from VOC to water-based finishing; McFadden's/ML Campbell - Greenguard® and water-based coatings; Sherwin Williams/Becker Acroma; Exel Industries (Kremlin) - two-component mixing systems and air-mix spraying; Sansin Corporation - running a cleaner, greener shop; Performance Abrasives and Coatings - water-based wood coatings.
And Dennis B Harlock, of Conestoga College's Wood Program, told participants about the virtual spraying/finishing training program available at the college and to Alliance members. He later demonstrated the virtual paint system, which was developed to train the people applying the $10,000/litre paint needed to make the stealth bomber stealthy. Harlock added that the college could offer special courses on a number of different topics for the Bluewater group.
Member benefits
The primary goal of the Alliance is to increase the competitiveness of its members. It is a member-based and member-driven organization and all initiatives and projects are determined and decided by members.
Sepp Gmeiner, Alliance manager, said members could benefit from cooperating, they can learn from each other, share research and use their combined buying power to get better pricing. He also reminded them that working together provides many more benefits than it has risks and he encouraged everyone to make use of the opportunities that exist within the Alliance. Gmeiner announced that the members-only portion of the Bluewater Wood Alliance website is now active and provides a portal for idea exchanges, calls for quotes or any other issues members may want to discuss. In addition, discussion boards are also now available and he spoke of the strong interest and support the Alliance has received from government and said new projects and purchasing groups have also been established.