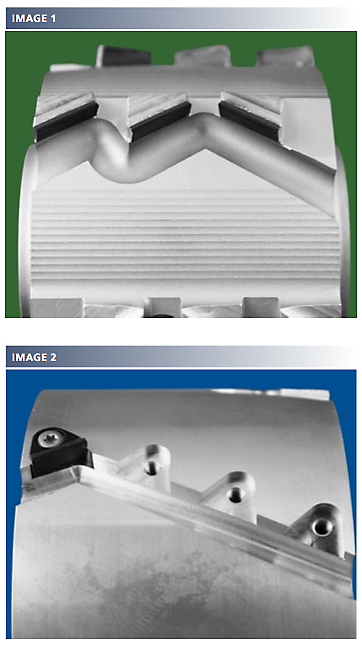 When carbide insert tool designs emerged in the marketplace, they quickly became a superior alternative to braised carbide tooling. However, polycrystalline diamond insert (PCDI) options did not emerge in the wood industry until recently. The relatively slow progression of diamond cutting edges in replaceable format is due to a number of important factors.
Firstly, accuracy and ease of setup have always been a challenge with many insert systems, which can dramatically limit the performance of the cutting tool if not set up properly. Even the best-manufactured insert tool can never achieve equivalent accuracy to a fixed wing braised diamond tool. Since the performance of diamond tools depends heavily on accuracy, it seemed counter-productive in many cases to make PCD with a replaceable cutting edge.
Secondly, the cost-benefit analysis generally pointed away from diamond insert tooling, which deterred manufacturers from making the products on a large scale. The manufacturing costs of producing diamond inserts is equal to or greater than a fixed brazed system, which makes it difficult to justify unless there are other product features that add value to the process.
Recently, the value added versatility of replaceable diamond inserts has become relevant in specific applications where quick convenient knife changes can dramatically reduce downtime and reduce required tool inventory.
Applicable Application
Edgebander pre-mill stations
Image # 1 shows a traditional brazed diamond cutting tool for machining on edgebander pre-mill stations.
Edgebander pre-mill stations are notorious for cutting edge failure and micro fractures in the diamond cutting edge from foreign materials in the core of the board. Pre-mill stations must use diamond tooling to prevent premature tool wear on abrasive outer layers of the board. Diamond cutting edges generally hold up very well on the melamine and veneer layers of most materials; however the core of the particleboard generally contains inconsistent material that can fracture diamond easily. This presents a common scenario of required cutting edge replacement in the center of the tool, but no need for replacement on the top and bottom of the tool.
If fixed brazed diamond tooling is being used (see image # 1), it is impossible to achieve a new cutting edge without sharpening the entire cutting tool. This reality can be very costly as fractures in the center of the tool are very common given the quality of board and the application. Furthermore, the reality of diameter changes after service can be difficult or impossible to manage on certain machinery. A replaceable diamond tip design provides an effective solution for both of the problems discussed above.
Image # 2 shows a valuable PCDI solution, which provides instant replicability at minimal cost, compared to sharpening the entire cutting tool. Convenience cutting edge replacement is definitely the greatest advantage for this type of tooling. Similar to carbide options, the diamond tips can be quickly replaced by simply removing one screw and seating a new insert into the pockets shown in the image. The tool can return to service immediately without costly delays or complete tool changes.
The cost benefit is realized in the convenience and reduction in machine downtime, but also the elimination of multiple sets of backup tooling resulting in dramatic tool inventory reduction.
Tooling managers simply hold extra inserts on the shelf for emergencies and timely replacements without having to wait for brazed tooling to be transported and serviced.
In most cases, brazed diamond tooling still remains the most viable option for wood machinery. However, as market demand for convenient tooling solutions increases and materials continue to evolve, tooling manufacturers will undoubtedly find new applications for diamond insert tooling in the future.
Scott Burton is the Sales and Marketing Manager for Royce//Ayr Cutting Tools.
He can be reached at: sburton@royceayr.com