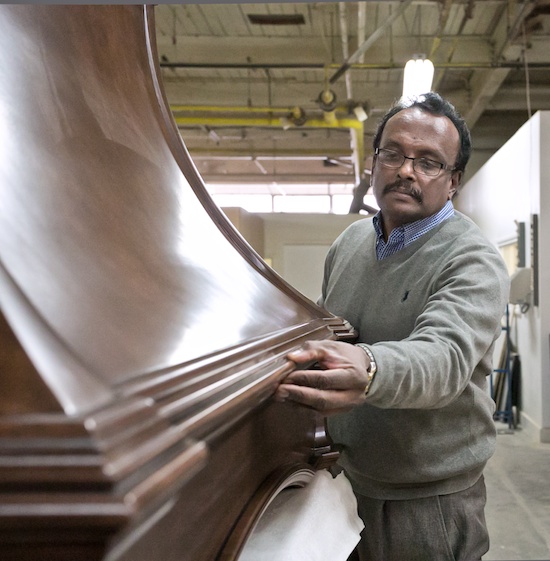 Photos: Woodworking
Gajen Arumugam of Lucvaa Kitchens is proud of their quality products.

Gajen Arumugam and his company Lucvaa Kitchens are a Canadian success story, but getting there was not easy - in fact initially it was quite scary.
Arumugam is a math teacher by training and while that skill and love of numbers and an ability to find a better way of doing things has been a major boon to his career path in Canada - starting his own business manufacturing high-quality, custom kitchens was not something he had ever considered.
When he first came to Canada, Arumugam landed a job as a quality controller with an automotive parts company that manufactured wiring harnesses for different car companies.
It's hard to describe exactly what he 'saw,' suffice it to say he had an eye for processes and how to make them better and more efficient.
"I can't really explain it to you, but if you are showing me how to do something, even if I have no idea about it, I can observe the process for a while and then see areas where it can be improved," Arumugam says.
"I am not saying I know better, but after a while and after I understand the goal of the process, I can usually break it down and have some ideas as to how it can be done more efficiently."
It's that uncanny ability that has served him extraordinarily well, even if it wasn't always easy.
Imagine a plant that has been doing things a certain way for years and years, and then imagine 'the new guy' making suggestions for improvements. Yup, not exactly the kind of thing that is expected, let alone encouraged and never mind welcomed with open arms. Of course there is going to be push back and opposition from colleagues and supervisors alike.
However, Arumugam says good relationships with co-workers and his bosses meant people were willing to give him a chance and listen to his ideas. A proven track record and continuing improvements meant he rose through the ranks quickly until ultimately, he was in charge of manufacturing, quality control and engineering.
After years in the automotive business, however, Arumugam saw the writing on the wall and realized that the automotive sector was due for some major changes and that it was time to move on.
"I also felt I needed to try something different, time for me to make a change," he says.
So he went to work for a small bathroom and vanity company. After about two years and when that company landed a huge job (for more than 50,000 cabinets) for one of the large home improvement chains, Arumugam was part of the team that developed a solution to deal with that large order. As part of their solution, they set up a production facility in India to manufacture the doors and they ordered the countertops from China.
"We built the boxes here and set up the manufacturing company in India for the doors. We arranged for product from Europe to be sent there and the countertops we needed came from China and were sent directly to our Canadian facility," Arumugam says.
They also rented a large facility in Canada for the final assembly to put it all together. The boxes from Canada, countertops from China and doors from India were all assembled here and then they shipped the completed orders to the customer.
A lot of people took notice of their success and after a few months other big box stores started to order from them as well.
It worked out really well and the company grew dramatically, but after another three years or so, Arumugam decided it was time for a break. So he left the company to take some time off. After a while, however, people approached him with ideas and funding and urged him to start his own company.
"But I didn't want to work for somebody else again, so that's why I decided to consider starting up my own company," he says.
On his own
After considerable research into the business, Arumugam leased a 25,000 sq. ft. facility (the company's current home) and started to look for equipment. Incidentally, the company name (Lucvaa) is a combination of the words luck, vaa (welcome in Tamil) and the initials of his and his brother's sons.
That's right, he rented a large facility without any equipment, employees or even a single contract, so the pressure was on to get something started, and do it quickly.
He knew that if he wanted to produce quality kitchens, there were two key machines he needed to spend money on and to buy new machines in order to get the best quality and latest technology. So he went out and bought a BRANDT edgebander and Kremlin Flowmax Pump for the finishing department.
But for the rest he was prepared to buy used.
His search for equipment took him to Barrie, Ont. where a kitchen manufacturer was going out of business and selling off a complete shop.
Arumugam hit the road and ended up buying everything, including the company's last remaining contract. And he made a deal with the owner to have them build that last kitchen – from start to installation – while he watched them do it.
"I considered this a great opportunity to learn," Arumugam says with a smile.
"It showed me the process from start to finish and I could ask all the questions I wanted."
Once he had moved all the equipment to Toronto, he also hired his first employee and they got to work on small jobs, jobs for friends and family and it was tough going and a very slow process.
"It was a really, really difficult time and a tough learning experience and there were many days when I thought I wouldn't make it," Arumugam recalls.
His family was worried too. They had always considered him a success, but with all his savings used up and credit cards maxed out and even being cancelled, there seemed little hope. His brother, who is still a silent partner, also invested in the company, but it took months for the business to pick up speed. He didn't sleep much and worried a lot with just one credit card left to pay for the venture, but he also continued to work, building one small kitchen at a time in a shop that was way too big and with few new leads coming in.
But he never quit and word of mouth spread and jobs continued to come in, he hired more people and grew the company.
Today, those days are not forgotten, but well behind him as he employs 29 people full time, the shop is busily humming along and Lucvaa Kitchens just landed a contract to build more than 300 kitchens for two new, sizeable condominium developments.
"We've always done our own finishing, but I knew we needed to up our game for these large projects. So I did my homework and we just recently purchased a new Venjakob Ven Spray Smart in anticipation of this big contract," he says.
As per his usual approach, Arumugam didn't force the machine on his crew, but rather talked to them about it, praising its advantages and letting them try it on their own time. It took a while, there were all the usual concerns about set-up time and cleanup, but once they tried it there was no going back.
"You can't be afraid to try new things, we have to change and improve the way we do things all the time and this is another perfect example where it pays off to try something new," he says.
Lucvaa Kitchen has a great finishing department and thanks to the new addition, it just got even better and at least three times as efficient.
Arumugam considers himself very fortunate. Not only because of his supportive family and many good friends, but also because he has great employees.
Employees can make or break a business and Arumugam says his are a key reason for the company's success. Each is an individual and brings different qualities and Arumugam nurtures those qualities and encourages input and openness.
He also believes that the kitchen is truly the heart of every home and at Lucvaa Kitchens they are all about creating timeless beauty and quality - custom designs according to their clients wishes - that will be enjoyed for years to come.
"We also pride ourselves in using the best components and only quality materials," he says and added that since kitchen remodeling can be very complicated, Lucvaa Kitchens offers a 'one stop shop' for all of their clients' needs.
From electrical, to flooring, plumbing and carpentry, Lucvaa offers it all.
The company is committed to delivering high quality, custom designed kitchens backed by a team of talented professionals with more than 20 years of experience in management, designing, cabinet making and installation.