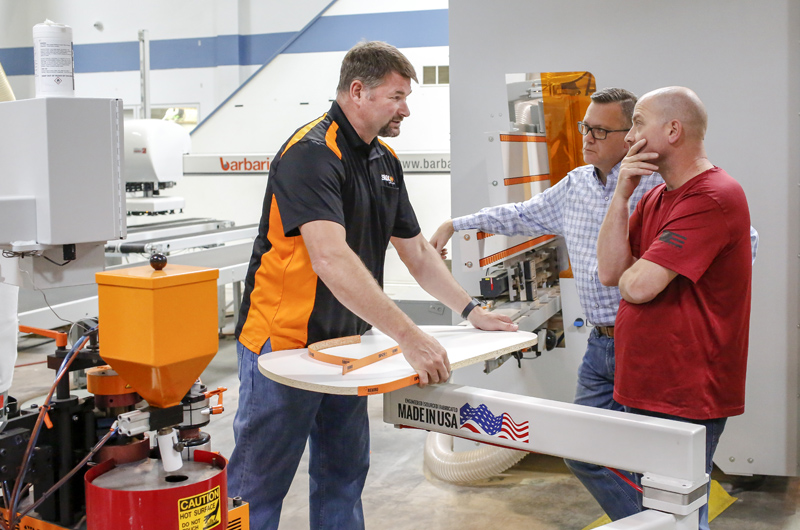 Photos: Woodworking
Taurus Craco's edgebanding symposium demonstrated leading edgebanding solutions.

Taurus Craco Machinery of Brampton, Ont. presented a special symposium entitled LeadingEdgebandingSolutions for straight and contour edgebanding.
The special Symposium was designed to demonstrate a wide variety of edgebanding technology solutions in all shapes and sizes and many woodworking professionals came out to see some of the latest technology over the two-day event held June 22-23, at Taurus Craco's showroom and offices.
From fully automated return systems, laser edgebanding to manual machines, this was an opportunity to see the latest and best technology to work corners, curves, large and small pieces for one-offs, or high-volume production.
And in addition to live demonstrations on working machines, attendees got a chance to learn from on-site technicians.
"We wanted to give customers an opportunity to see the different methods that are available to them," said company president Wes Love.
"Whether it's regular glues, PUR or laser edge (zero edge), we wanted to show and tell people about their options."
On show was everything from small, handheld solutions such as Festool's Conturo and the SNX nVision System2 semi-automatic contour edgebander, to HOLZ-HER's flexible LUMINA 1380 Glue Edge with hybrid technology. The event also featured BARBARIC's full automated return system for high volume production and HÖCKER's dust collection systems.