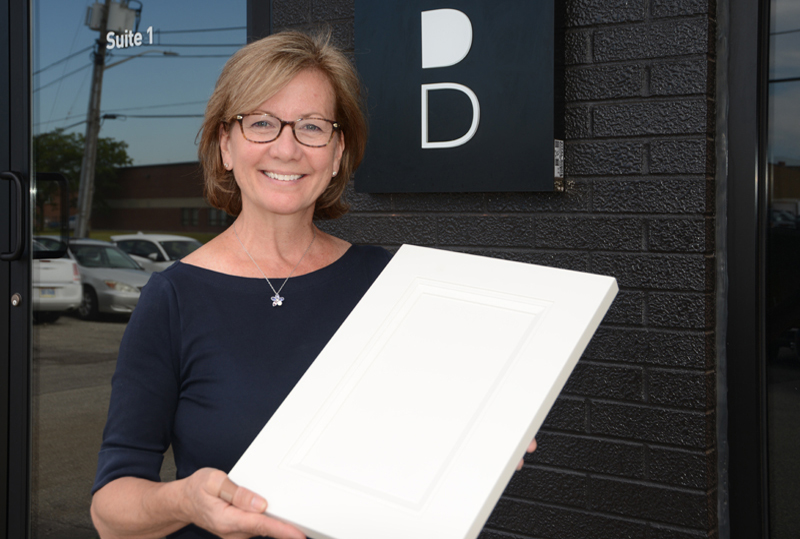 Photo: Woodworking
Laurie Stutt started Belmont Doors with her husband Brad in 2005.
Laurie Stutt is the owner and president of Belmont Doors, a company she started back in 2005.
She didn't start out planning to build a new company; rather she was trying to address a need for a proper MDF door, something she couldn't find in the market.
"My husband Brad and I have been in the kitchen industry for more than 30 years," Stutt says.
"About 17 years ago, we got our first CNC machine and started cutting cabinets. We were looking for some high-end MDF doors. We knew about the advantages of MDF doors as opposed to wood doors, but just couldn't find a good quality MDF door in the market that we wanted to use, so we decided to start making our own."
Stutt says they started to design the doors that were popular at the time and developed the programs to manufacture those designs in the quality they needed.
There were many different MDF doors available, but the problem was they all looked like the old traditional MDF doors with rounded corners and simple designs. They wanted to build MDF doors that looked like a real wood door. "We wanted finer detailed corners that matched the doors we had been sourcing from our wood door manufacturers," Stutt says.
"There is a lot of mixing and matching in the kitchen industry, where designs would incorporate a stained island, but painted cabinets on the perimeter. We wanted to have the exact match of the wood doors for the MDF doors and there just wasn't a lot available which is why we decided to design and program our own," she says.
"We purchased our first CNC machine and carefully developed a line of doors that fit our exact needs and specifications. We were doing that for about a year and then started selling to other kitchen manufacturers." They never started out with a plan to get into the door business but Stutt says "we kind of fell into it."
"It really started with our suppliers and sales people who would visit our shop. When they saw the quality of door we were producing we would hear "Oh, you should sell these! I know of a lot of companies that will buy these from you."
"We realized we were filling a niche in the market, making something that wasn't really available and that other kitchen manufacturers could benefit from providing to their customers the same sort of MDF door styles we were making for ourselves," Stutt says.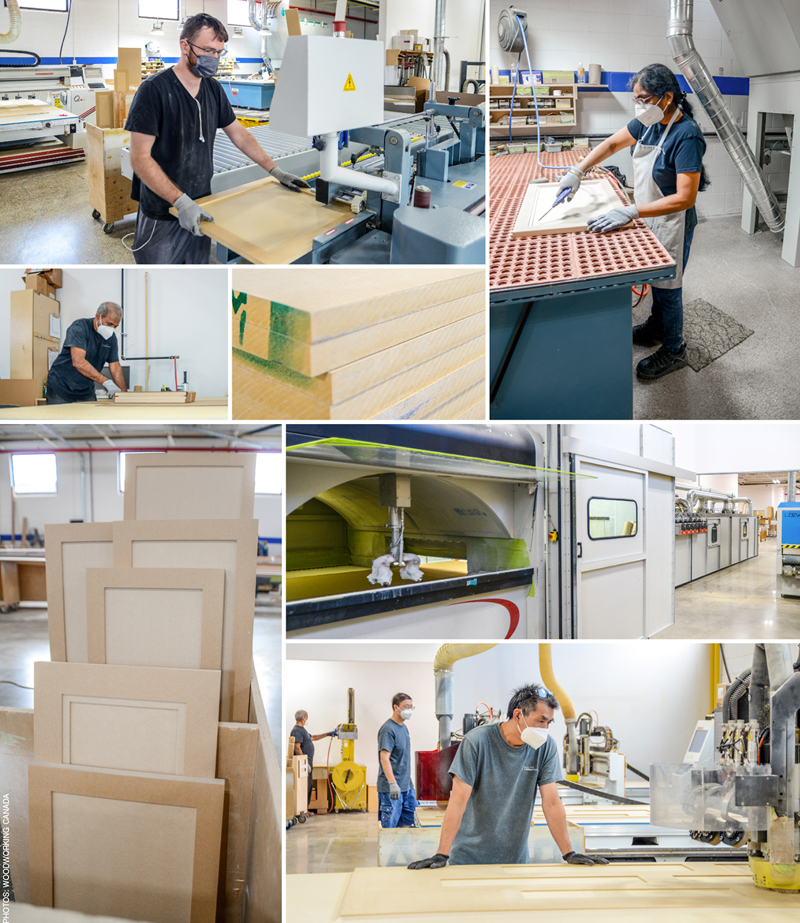 Eventually, after selling more and more doors to other companies and demand continued to grow, in 2005 they decided to start Belmont Doors.
"I never really expected it to take off like it did, but it just grew from there so we took advantage of it."
At the same time, the market was also shifting to more customers wanting a painted kitchen. "The painted finish with heavy glazing was really big at the time and everybody was using five-piece wood doors, or five-piece wood with applied moulding which ended up being a customer service nightmare. MDF was considered cheap, and hard to finish and these door designs in one piece just simply were not available in the industry. We did a lot of research and development into machining them properly," Stutt says.
"It took us a long time and significant investments to perfect what we were designing with keeping the doors straight and to avoid warping (which is very important), and also to eliminate cracking, which was prevalent in the market at the time."
"We realized there was a niche for a one-piece door that would not crack. Many companies still use insert panels to create a two or five piece door, however Belmont Door's has always been one piece with no seams, eliminating any possibility of the paint finish to crack resulting from movement or glue lines and the careful machining takes paint easily."
All Belmont Doors are manufactured from 100 per cent Western white softwoods and as a result offers a smoother substrate, which is ideal when opting for a painted finish.
In the beginning they split their employee pool between Belmont Doors and their initial company, but as the new Belmont Doors continued to grow, they slowly added dedicated employees.
Belmont Doors now operates from a 9,000 sq. ft. space with 10 employees and continues to grow. They recently moved into a new, larger facility, which enables them to further streamline operations for a better flow. There was also room for a new finishing line for their primed doors and more room still to expand.
Following the move, Belmont Doors added a new full conveyor belt horizontal finishing line for water-based priming. As part of this installation, CNC Automation installed the new Sunspot Linear Oven in tandem with their flat line overhead spray machine, which results in fully cured primed doors and shorter lead times. Not including sanding, it takes just five minutes from the time a door is put into the finish machine until it comes out dry at the end of the line and ready to be shipped. The universal water-based primed door enables their customers to spray virtually any coating on top without fear of chemical incompatibility.
The result is a "ready to prep sand and paint" product that saves customers up to five steps in their finishing process.
They have also added an automated sanding station for the edges of their doors resulting in a very consistent smooth edge for ease of finishing.
"The time saving has been a real eye opener," Stutt says.
They also still do hand sanding for their raw, unfinished doors, which is how it all started. "We do that as a bonus for our customers and that's not something many other companies are offering." she says. "It makes for a really nice finish ready for prep sand, priming and topcoat."
But for many customers who aren't that familiar with MDF or don't like the hassle of dealing with raw MDF doors, Belmont Door's primed MDF doors are the perfect solution and save them hours and hours of work.
"Our customers don't have to prime, prime again, wait for drying and sand it for paint, which is a lot of steps and very time consuming," she says. "The doors are ready for prep sand and topcoat right away."
"Instead of saving a few dollars by buying raw doors and spending all the extra time and labour to prime and sand them, they could be on to the next job and moving more volume through their shop" says Stutt.
"So it makes a lot of sense. Remember we are using a water-based primer; because it's better for the environment, and in the market water based can accept both lacquer and water based topcoat finish. It is the most stable primer in the industry."
As they continue to grow, Belmont Doors is also looking at the possibility of adding finished doors in the future.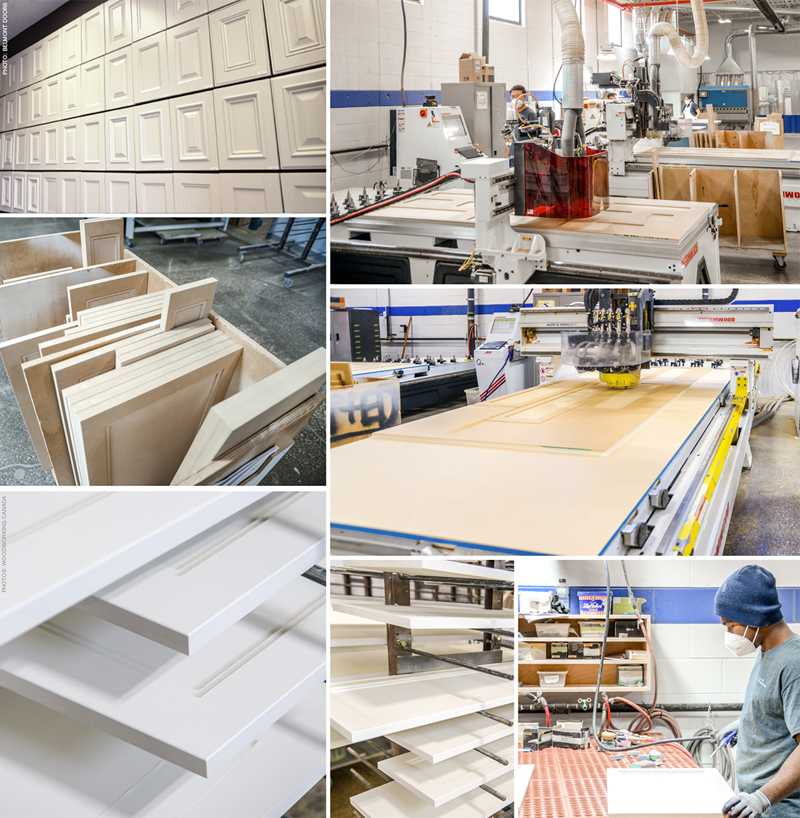 Online ordering system
Initially, their market was mainly in the GTA, but since they've added their online ordering system, they have gotten a lot of exposure and a lot of inquiries from across Canada and the United States shipping orders everywhere, from Washington to B.C and the Yukon.
"Our biggest market is still close to home, about 75 per cent of what we sell is in the GTA," Stutt says, "but we are growing the other areas as well."
Surprisingly enough, they are also getting more orders from DIYers who just want to replace a couple of doors in their homes.
"Shipping is done through small and mid-size couriers, because the big ones aren't very good at handling our product unless it is on a skid," Stutt says with a laugh.
"We really appreciate the care of our couriers to get the product safely to its destination."
Belmont Doors offers a line of doors they have designed as part of the standard collection, but "we also have more than 200 designs in our portfolio and do a lot of custom programming for special orders".
"We don't have the 5-axis CNC router which can do more of a 3D design and carving. We have the 3-axis so if the design is on a flat surface we can do just about anything custom," she says. "I am pleased with the way things have been developing, in fact Belmont Doors' success has exceeded our expectations, because initially we started out to just make the right doors for ourselves."
They are also in the process of adding dovetail drawers to their online ordering system to broaden their product line. That is expected to launch in approximately one month or so.
"We have invested a lot of time and money to get the designs and the tooling we needed, and now with the larger facility we are in a good position to continue to grow the company," Stutt says.
"It's been a long process – this is not something you can just start up overnight – but I feel we are in a great position now to drive for growth."
"I believe we build the best doors in the industry. Having the affiliation with another company in the kitchen industry, we know what it takes to make a good door and we know what our customers expect in a high quality MDF door.
We make sure it's machined properly so it can be finished properly, that's our goal."
Anybody can start running doors, but Stutt says the key to making a good MDF door is knowing what works, that they will not crack or warp, they will take paint well and accept hinges properly.
"Sometimes we get orders - and because of my experience in the industry I know what the customer is asking for won't be possible - so I make the call to discuss those issues. And usually, with a little flexibility, we can make things work," Stutt says.
"We know what makes a good MDF door because we have the experience in using the doors ourselves, and we did the research and development beforehand to make sure we have really great product."