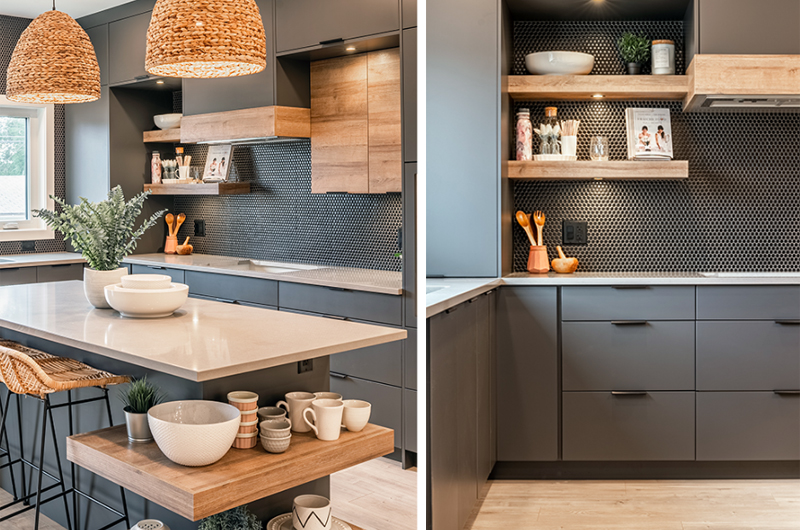 Photos: Superior Cabinets
Canadian cabinet and kitchen manufacturers 
AyA Kitchens and Superior Cabinets have released their trend reports for 2022.
"Trend spotting has been a real challenge because of the COVID-19 pandemic as larger industry trade shows have been on hold or have gone virtual," says Shahan Fancy, Superior Cabinets' director of marketing.
"These shows are where vendors and manufacturers usually display their new wares, which can help drive trends. Having these points of inspiration, somewhat on hold, leaves limited sources to spot trends. Experts have been mostly relying on the internet, social media, and sales trend data to spot trends. That said, the Superior Cabinets Trends Experts have been scouring this data to bring you their 2022 Kitchen Trends."
DARK WOOD STAINS: The trend experts are seeing an uptake in the demand for darker wood stains for accent items, hood fans, and islands. They doubt homeowners will be choosing a dark wood stain for an entire kitchen and island any time soon, but only for accents at this time.
DARK AND BOLD PAINTED CABINETS: Dark painted cabinets will be on trend for 2022. Inspired by carbon, zinc, graphite, and charcoal elements, emerging in fashion, fine furniture, and other industries.
GREEN MEETS GRAY: The 2022 Colour of the Year by Sherwin-Williams, Evergreen Fog [SW 9130], will have major influence for wall paint, art, accessories, decorative items, and more. Experts are keeping a close eye on this nature and organic inspired color.
LIGHTER WOOD STAINS: People want lighter wood stains, but without the yellow of natural wood. Inspired by Organic Modern and Boho Chic styles, you will be seeing lighter woods like this in kitchens for 2022.
THREE-TONED KITCHENS: People want at least two tones or finishes in their forever kitchen. It is predicted that three toned kitchens will be trending at a frenetic pace for 2022. This has been inspired by the eclectic style trend, which has gained huge popularity in the past five years.
GRAPHITE DECORATIVE HARDWARE: Why? Because it is an easy hardware finish to blend with two or three-toned kitchens. Matte Black decorative hardware will continue to be on top, but could graphite surpass it in 2022? We shall see.
QUALITY PREVAILS: Homeowners also say they are willing to invest in higher quality materials and products that will surpass normal wear and tear usage, as they are spending more time at home and want things to last.
KNOBS: The trend experts are seeing more knobs being selected, mostly for cabinet doors, while keeping handles on the drawer fronts. This mixed look also lends well to the eclectic style trend, which continues to climb in popularity.
FLOATING SHELVES: Floating shelves have always been hot, but corner-floating shelves started to gain serious momentum in early 2021.
DECORATIVE HOOD FANS: People want this area to be a primary focal point and are willing to invest in semi-custom and custom wood hoods, especially with square modern styling.
VERTICAL QUARTZ APPLICATION: You'll be seeing more vertical Quartz, Large Format Tile [LFT], and Ultra Compact material being used for backsplashes, cabinet doors, and backs of islands. This material is no longer just for the counter anymore.
TALLER WALL CABINETS: It's rare to see open space above upper cabinets nowadays. As ceilings get taller, you will see full height or stacked upper wall cabinets continue to trend in 2022.
SILVER DRAWER SLIDES: Homeowners are selecting these because they are durable and easy to adjust.
According to AyA Kitchens' team of designers, this 
is a year of creative details and creating custom spaces that cater to our unique lifestyles, with a focus on our health and sustainable quality and a touch of country charm.
With a new year, come new trends that shape how we approach style and design over the next twelve months.
With the expectation that we will continue to spend more time at home, this year's top trends aim to create a stylish and efficient life at home, and are rooted in reflecting a shift in values that prioritize comfort and sustainability.
NATURAL SURROUNDINGS: In 2022, you can expect to see the trend of returning to natural wood continue to gain popularity. The white kitchen is still a favourite, however, warm toned woods such as Maple, Cherry, Oak and Walnut with lighter stains showcasing beautiful wood grains are gaining traction. Whether featured throughout the kitchen or as accents, natural, warm feeling designs are on the rise.
CUSTOM CRAFTED FOR COMFORT: As we continue to spend more time at home, we naturally want our spaces to be as comfortable as possible. This has led to a more customized approach of design, with a demand for fully custom kitchens. One size fits all is no longer an option. To complement AyA's mass customization model of production, AyA has introduced its ELITE line, which adds a more fully custom alternative at an affordable price point. 2022 is the year for creating unique spaces to fit our unique lifestyles.
THE INS AND OUTS: Over the last two years, working from home has become the norm for many of us. While 2021 saw a trend in home offices, 2022 will see a rise in coffee stations. This coffee revolution has created a super functional cabinet, which is beautiful, both in the opened or closed position.
SUSTAINABLE QUALITY: More than ever, homeowners want to build a healthy environment with quality materials. Over the past 20 years AyA has been on the forefront of green design, most recently with a transition to all water-based finishes.
FARMHOUSE FUSION: While modern kitchens have been the popular go-to for the past decade, AyA's experts are seeing the farmhouse style edging into many kitchen spaces. Creating a nostalgic cozy atmosphere is on the top of many designers' minds. Customers are adding country comfort touches with transitional flair.