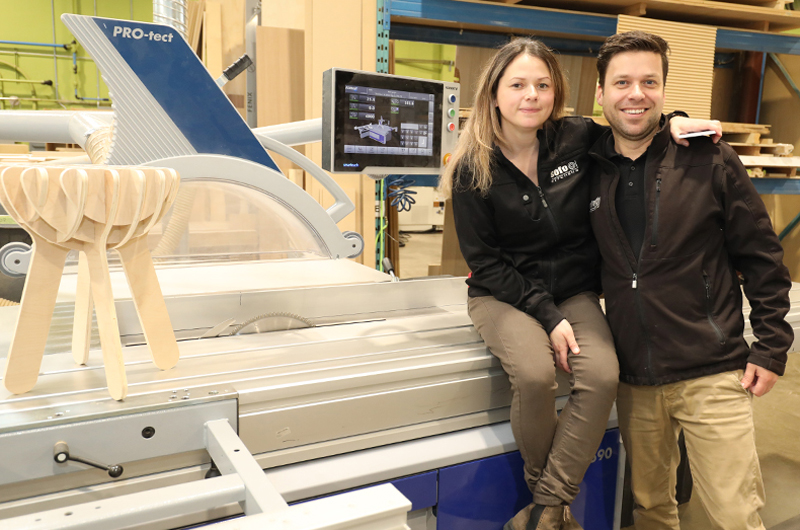 Photos: Contributed
Monika and Radu Soos of SOFO Kitchens in Port Coquitlam, British Columbia.
Radu Soos founded SOFO Kitchens, a mainly family-operated company, in Port Coquitlam, British Columbia in 2008 and runs it with his wife Monika.
A great story actually, because Radu and Monika grew up together on the same street in Romania where they first met when they were just six years old.
"We grew up in Transylvania, about 20 minutes from Dracula's castle," Radu says with a laugh, "and I remember as children we were always making fun of visitors who came there looking for vampires."
Radu came to Canada first, with his family, in 2002, and immediately started saving every penny he earned so he could buy a plane ticket for Monika to follow him here. It took him six months, but he managed, and as soon as she was able to join him here they got married.
"After immigrating from Romania and having worked for six years as a customer service associate at a large commercial cabinet manufacturing company in Coquitlam, B.C., he went to school to be certified as a project manager.
Radu had previously worked in a cabinet shop after high school and he really liked it. And as Monika adds, "he was also really good at it."
So it wasn't long until he decided to start his own company.
He quit his job and like so many others before him, started his company in the garage, which was quite challenging.
"We had to update the electrical system to even be able to run the basic machines I started out with," Soos says. But it didn't take him long and after just a few months he was able to rent his first, tiny, 2,000 sq. ft. shop.
There was only room for a small bench and some basic tools and they even set up a spray booth in a friend's garage just so that they could do some finishing.
All of his jobs came through word of mouth, some smaller and some larger, and one contractor who kept calling him back for additional projects. And the business kept growing from there.
SOFO Kitchens has always focused on producing high-end residential custom cabinetry and millwork and Radu remembers spending countless hours in the garage, having dinner with his wife on top of plans and cabinet boxes.
But word got out about the quality of their work and the orders just kept coming.
It wasn't long until Soos was able to rent his first larger commercial space.
And by 2011, Monika, who worked in laboratory research at the University of British Columbia and helped out with bookkeeping and marketing, also quit her job to join the family business full time.
Soon SOFO Kitchens had to move again, into yet another, larger space. And just recently, having outgrown their previous space after just 1½ years, they had to move again.
The new facility, also in Port Coquitlam, is close to 13,000 sq. ft. and SOFO Kitchen now has 
25 employees. Seventeen full time the rest are contractors. And rather than sign another lease, this time 
they decided to buy their own place.
They are members of the Canadian Kitchen Cabinet association and Monika also serves on the board of directors of the American Cabinetmakers Association.
One thing that hasn't changed over the years is that SOFO Kitchens still relies almost exclusively on referrals for its business, "even though we have a strong online presence, we don't really advertise," says Monika.
Their customer base is exclusively designers, architects and builders and they only do high-end residential projects mostly in the lower mainland, anywhere from Chilliwack to Whistler. Canadian singer songwriter Michael Buble is among their numerous well-known clients.
They have also done jobs in Regina and Toronto, but those are exceptions. 
"And we don't do retail, we don't have a showroom and I'm not planning to have one," Soos says.
"So if someone were to call me because they see our website or heard about us, I don't take those jobs, It's just not what we do."



People and technology
Soos credits their impressive growth on their talented team and the commitment to having the best technology. 

"Most of our people have been with the company since the beginning, and they bring decades of skill and craftsmanship to the table, and everybody is like family and we're there for each other."
Monika says 'Sandu the Sander,' a fun name given to one of their long-time employees is a perfect example of that. Although he is 78, "Sandu is amazing and very, very energetic. Our team is very diverse ranging form 19-78 years old, from no experience to old school European craftsmanship and they come from all over the world".
As far as technology is concerned, Soos says it's the other key to SOFO Kitchens' success.
"For example, we are using Planit's CABINET VISION and it helps tremendously," he says. "I remember even in our first and second shops we had some very basic optimization software and then we still had to cut it on a panel saw. But then when we got into CNCs, CABINET VISION really made a huge difference, especially since we were so custom. We started using it in 2013 and we never looked back.
"I started with the first module for the CNC and then we kept adding to it. It's very good software. I looked into other solutions, but this one is really good, it works for us, it's extremely powerful and it helps us save time, be efficient and have less waste.
"We also use it in conjunction with VORTEK Spaces, Planit's 3D Interactive Virtual Showroom software."
Soos says some people can't read drawings or have a difficult time visualizing what their completed project will look like, "so having CABINET VISION together with VORTEK is really amazing.
"People can use their phone or tablet and walk through the house and see exactly how it will look. They'll see everything we're going to do for them. It creates the project in virtual reality and I can just send them a file and they can do the walk-through, it's the perfect solution for the end client."
Adapting to challenges
Of course COVID-19 has created some challenges, but Soos says they have managed to adapt by changing the way they order and plan their projects.
"Let's say for a larger project where we used to take five weeks for planning and preparations before we started cutting, now I need to plan a few months ahead," he says.
"That also means we have to have a conversation with the client telling them that they have to finalize everything ahead of time so we can source material."
He says it is about working with the clients and educating those clients about the situation and then work with them to overcome the challenges.
"Like so many other shops, we were all about just-in-time, but we had to adapt and change. Now I have to have inventory.
"We used to get the hardware as needed, but now we have to pre-order it ahead of time and store it so we are guaranteed that we have it in stock when we need it."
However, the pandemic notwithstanding, Soos says the past year has been insanely busy for them; in fact they have never been busier.
And while that is great for business it has also been challenging, for the aforementioned supply issues, but careful planning has enabled them to keep up with the projects and they are in a really good spot overall.
In the shop
SOFO Kitchen also uses the best technology on the machinery side. They have a new SCM Morbidelli 5x10 CNC with an automatic off loader. Then there is a PUR-capable edgebander from Felder, and two large, dully-digital panel saws (Felder and Altendorf).
"We really like to take advantage of technology as much as possible," Soos says and added they also recently installed a new finishing booth and dryers, which were delayed by five months because of COVID."
Future plans
"We are in a really good place right now. Everything is working really well, we've optimized everything in the shop and I am really happy," Soos says. "Of course there is always room for improvements.
"The biggest thing for us right now is to get a vertical material storage system, because we don't have the horizontal space and we certainly don't want to move again. You know Vancouver real estate is insane, so we're looking for something to organize our material and handle automatic storage and material management.
"With horizontal systems you need a lot of space because we have 4x8 and 5x10 sheets, but if you get a vertical system it takes a much smaller footprint, so that's what we are looking for."
So far they've discovered just one such system. One usually used for metal fabricators, but it can be customized for woodworking as well so that is one consideration.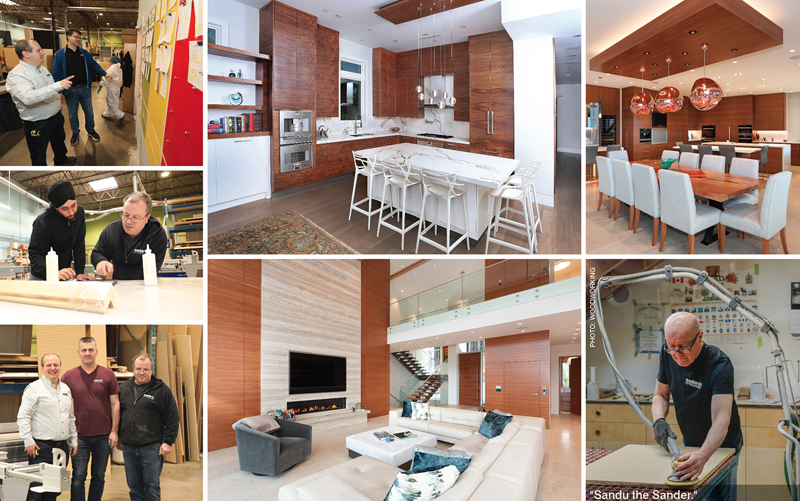 Working with schools
And because it is so hard to find and retain employees, SOFO Kitchens has started a program with schools to bring in kids to have wood shop classes and experience what it is 
like to work in the industry.
"It is to give them exposure to what we do, Monika started that program, we call it Canadian Manufacturing Day, and it has been working really great," Soos says.
It's' like an open house where kids can go through the shop and see the entire process."
"The last time we did it, we had one kid who decided to work with us for the summer," Monika Soos says. He is even considering going into the Red Seal program at BCIT.
Another employee is doing her apprenticeship with them right now and Radu and Monika say it is important for them to support and encourage young people to get involved in this industry and to see it for what it is.
"Not the dusty shop some people expect, but a modern workplace featuring a lot of cutting edge technology."
"Take our shop, we have almost completely eliminated paper," Monika says. "Everyone has their own iPad and all the information they need, including their time sheets, are there ready to use and updated in real time."
The app - a program they created and customized just for their shop - links the jobs and the payroll so they can track everything in real time. "That helps us track jobs and how we are doing compared to our estimates and it shows us who is working on what right now.
"We are always looking at adding more technology and that approach has been working very well for us," says Radu.