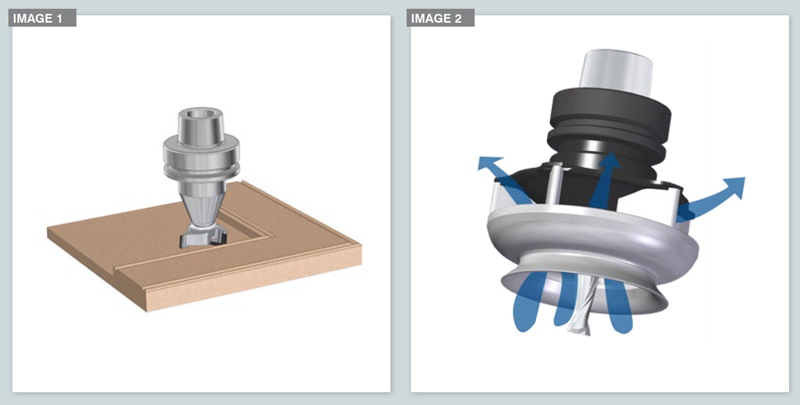 MDF cabinet door manufacturing processes have changed dramatically in the last two decades as CNC technology, software innovation and tooling solutions have evolved.
Door design and style changes have also transitioned, resulting in different customer requirements and expectations for cabinet door construction. Flat panel contemporary door styles have replaced traditional applied molding and raised panel door styles. In some ways, MDF door manufacturing has become easier and more efficient with the emergence of contemporary styles in conjunction with technology advancements. As speed of CNC nested based machinery has dramatically increased, so has the software integration resulting in substantial cycle time reduction. Cutting tool technology has improved surface finish even at higher feed rates, which has made MDF finishing processes easier and more efficient. However, there is still work to be done to eliminate excessive dust during MDF door machining processes.
Center panel
Machining recessed center panels of MDF doors obviously creates a great deal of MDF dust due to the excessive volume of material removal from center of door. There are two prominent methods of flat panel MDF door production, both of which produce excessive dust levels.
Image 1 shows an example of a pocketing tool machining the centre portion of an MDF Door on a CNC router.
The first machining method involves a cutting tool specifically designed to remove material at high feed rates and produce a finished surface on center of panel using the cutting tool. Center panel pocketing tools are generally designed at approximately 1 ¾ inch diameter to minimize number tool passes, and still have enough diameter to machine smaller center pockets of drawer fronts. Advanced cutting tool geometry can operate at extremely high feed rates and still produce acceptable surface finish prior to finishing operations. However, higher feed rates cause higher material removal rates which can overwhelm dust extraction systems, resulting in excessive airborne dust and other workspace hazards.
The second door production strategy involves the same high feed rate machining process, but the pocket is machined deeper, so that a separate ¼ inch thick MDF panel can be machined and inserted into the center of the door pocket and secured using adhesive. Applied center panels do improve surface finish resulting in less finishing time and resources. However, this strategy is more problematic for dust, as center panels must be recessed deeper to allow room for the ¼ inch 
center panel.
In both scenarios, material removal rates can be reduced by simply machining the pocket in two passes to reduce strain on the dust collection system. However, an increase in feed rate will be required to maintain cycle time, so the problem will not be solved without addition technology.
SOLUTION
Image 2 shows an example of a dust extraction fan assembly, which can be used in conjunction with a center pocketing tool or door edge tool to dramatically increase dust extraction. The fan assemblies are available from multiple tooling manufacturers in a variety of different configurations, for most CNC routers on the market. Fan design and performance rates vary from different manufacturers, however, the basic function is similar for all designs. Although different fans perform at different extraction rates, they all increase dust extraction by pulling dust upward away from the cutting tool.
Door edges
Machining MDF door edges can also be problematic, as MDF tends to build up in the ½ channel behind the cutting tool. Given the location of the dust, it is more difficult for machine vacuum systems to clean out the channel, especially at higher feed rates. Dust extraction fans can play a valuable role in solving this problem, by using a door-edge cutting tool in conjunction with a fan. Door edge tools can be used in the same manner as pocketing tools, with an option to increase RPM slightly due to smaller diameters. In some cases, door edge applications can be more challenging than center panel pocketing operations because the dust must be pulled from a ¾ inch deep channel, rather than a ½ inch deep pocket. Therefore, machine parameters may need to be adjusted to achieve optimal dust extraction results.
CRITICAL CONSIDERATIONS
All dust fan manufacturers provide maximum RPM ratings, which must be followed without exception. Most fans are balanced to high standards, but the excessive diameter is far less forgiving than a smaller-diameter cutting tool. Final selection of RPM will depend on machine and material factors, but most fans run safely at 12,000 to 18,000 RPM. Dust extraction will be more effective at higher RPM, so increase RPM to optimize performance, but never exceed the maximum rating, which will be etched on the fan and shown in product manuals.
Feed rate settings must also be carefully considered to ensure machine and tools are operating safely. Many nested based CNC machines now operate over 1,500 inches per minute in cabinet machining operations. However, it is important to note that feed rates do need to be limited to ensure optimal dust extraction in MDF door applications. The 600 to 1,200 inches per minute rate seems to be the most effective, depending on material composition and a variety of other machine design factors.
Proximity of the fan to top surface material is very critical to ensure optimal results. All dust fans perform best when they run as close to material as possible (1.5 to 3 mm is ideal), but this does increase chances of the fan contacting material. Panel products do vary in thickness, so always double check fan set up before running production. Various measurement gauges and tools are available to measure tool projection to ensure accuracy of set up.
Always check machine specifications, which outline maximum diameter possible on the tool carousel to avoid costly collisions with other tools on the machine. Most fan designs maintain a diameter range of 80 to 125 mm, but not all CNC routers can accommodate the larger format fans.
CONCLUSION
Regardless of fan selection and tool design, it is important to note 
that dust extraction fans are NOT a complete solution for dust extraction problems.
If the complete dust collection system is not adequate for a CNC router, the fan will not compensate for a poorly designed system. The purpose of dust extraction fans is to act as a vacuum assist to pull dust upward from the cutting area into the existing dust collection system. 
Most fans will pull 
dust upward 2 to 3 inches to make existing extraction systems 
much more efficient 
and effective while machining MDF Doors.