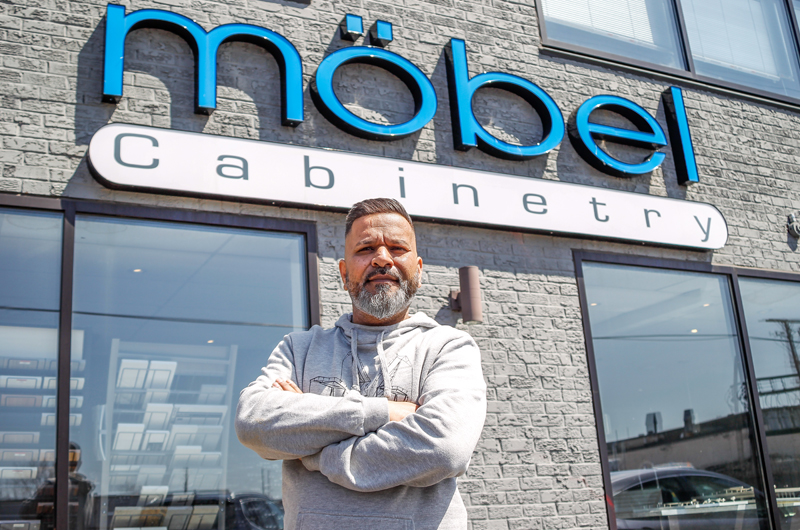 Photo: Woodworking
Rick Sihra
Rick Sihra is the CEO of Möbel Cabinetry, but right now he is wearing "many different hats."
"Some days I'm selling, some days I'm advertising, but mostly right now I am heavily involved in operations as the company is growing."
Möbel Cabinetry has just invested close to $4million in all-new machinery and extensive planning with a consultant and before it's all done they expect to invest another million dollars to add yet another expansion to their factory.
But let's start at the beginning.
Sihra's dad Harry Sihra started the business in his garage in 1977, and "began making kitchens by himself."
"And slowly, slowly he moved on to a 1,000 sq. ft. space and then 3,000 sq. ft. and from there I think he got 7,000 sq. ft. and eventually to where we are now," Sihra says.
That space in Hamilton started out as a 23,000 sq. ft. building, but has since more than doubled in size with another expansion just around the corner.
"Initially, when we ran out of space again, my dad added on a second floor mezzanine to make his own five-piece doors, then we bought the building next door and then we added another couple of extensions and grew into those as well," says Sihra.
"In the early 90s, my dad took over a company called Laurentide that was doing a lot of work, much of it custom stuff in Toronto.
"So what my dad did was he kept the showroom there but kept manufacturing right here in Hamilton.
"He also started to travel more and met more people and then in 1999 he started a project in Cayman Islands and also in The Bahamas. From there everything just spiralled and he also worked more and more with dealers.
"In about 2015 my dad decided to part ways with a partner he had teamed up with – they wanted to take the company in different directions – and decided to start over and rebrand."
That's also about the time Rick got more involved and started to take over the day-to-day running of the company.
"But I want you to know," Sihra says with a laugh, "my dad remains active and he still comes in from day to day to ruffle some feathers. And he has a lot to offer, among them that kind of old school mentality to jump in and get things done.
"He always says don't overthink things and take action.
And he will say things like "pressure makes diamonds," so you know he likes to get things done and done right.
Sihra says he got involved because he grew up in the business and loved it from the very fist time he set foot in the shop.
"To me it's like it's in my DNA. I remember when I was nine or 10 years old and I went with my father to pick up countertops. That was a chance for us to spend some time together, we would stop and get a pizza or whatever, and it was just a fun time for me.
"And as the company grew and dad bought the first CNC, I couldn't wait to get home from school to go and put a piece of wood on that machine to see how it worked. It was just great for me to see how the machines could do all this work and my love and passion for it just continued to grow. It was amazing to me and I just fell in love with it.
"There was always so much going on, some kind of chaos and strange as that may sound, it just drew me in even more."
As a result, Sihra says he actually finished high school early because he wanted to start working in the business.
"First I was sweeping the floors, then, after I got my licence, I started delivering kitchens and during summers I was working my way through every department in the company. So you could say I learned on the job and I loved every minute of it."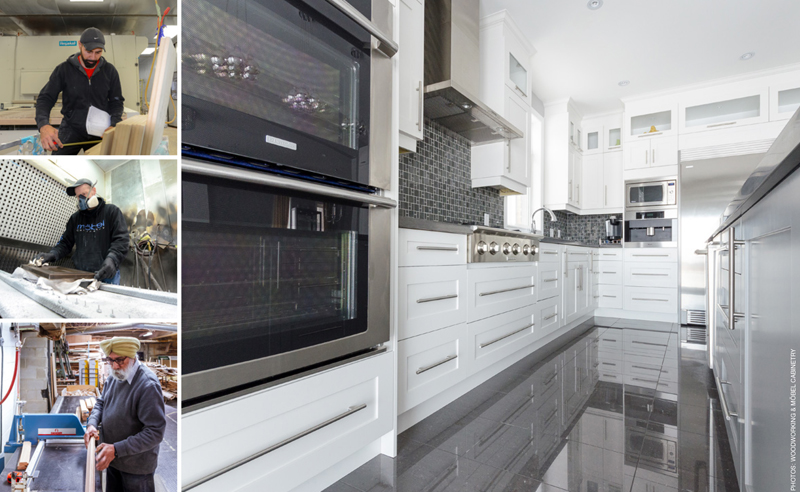 Expansion and automation
A couple of years ago, just before COVID hit, Möbel Cabinetry started a big project designed to clean up and modernize the factory, update all of its machinery and reinvent its product lineup.
We wanted to get rid of everyday problems, like material handling, Sihra says.
"So we asked a bunch of questions, like why is the guy spending so much time on the forklift, why are we getting dings and dents in materials. We looked at the whole process and we realized we weren't really efficient. The quality is there, the service is there, but we weren't as efficient as we could be.
"We were also still running a lot of equipment that was 10, 15, some of it even 20-years old, and at that point we sat down with HOMAG, that was one of the company's we trusted and stuck by for almost 30-plus years, and we started coming up with a new shop plan to make things better."
They also started to work with Sepp (Gmeiner of Lignum Consulting) on and off for a couple of years and looked at and planned for each section of the factory and then implemented the changes they wanted to make.
"Sepp didn't agree with some of the things we were doing and he would say, "listen guys I think you should do that," Sihra says, "but I often went with my gut feeling instead. I know that's not necessarily the right thing to do, especially if you are paying an expert, but that's what happened.
"Sometimes the gut feeling just works for me and I said listen Sepp, you know what, we'll take the plunge and do it this year."
"In some cases that worked out well and in others not so much and I went with Sepp's advice," Sihra says with a laugh.
"We worked it kind of like a workshop," Gmeiner says when asked about the project.
"They asked me to come in and we would sit down and discuss the projects and the options for certain areas and then they went to work to implement the changes until they needed me to come back again for another brainstorming session."
"I would describe my roll as that of a sounding board if you will," Gmeiner says.
"It was to listen to their plans and then figuring out what the best option is. It is rare that customers don't have a solution. The problem is that they have many viable options and solutions. I find, like it was with Rick, my work is to help them eliminate options. We were and are combining our strengths to come up with a solution that works for them."

And Sihra also brought in a new general manager, Mark Elgersma, who joined them from another cabinet company.
Online ordering system
Sihra says they have also revived and rebuilt their dealer network and invested a lot of money in their new online ordering system, a complete catalogue, and order and pricing system for dealers.
Sihra says thanks to those strategies and the fact that they are really upping their game as far as automation is concerned, "we are growing the company significantly."
"Our goal is to provide people with a good product, good quality and top-notch service."
"I think for us, especially considering that we are in a growth phase, the fact that we are maintaining our capacity and our existing customers - 
our lead time of about six to eight weeks - we are doing really well given all the supply shortages.
"We are fortunate to be in a position where we have been dealing with many of the same suppliers for close to 30 years and those kinds of relationships are important.
"Of course there are some issues with price increases during the pandemic, but we have not seen any real supply issues," Sihra says.
When they first started hearing about possible shortages, they ordered extra stock and when it went to allocation for a while they were OK because "we had increased our orders early enough thanks to some good forecasting and a great team.
"The biggest thing affecting us was the pricing. When your MDF increases by 60 per cent and paint increases you have to raise your prices, we couldn't just absorb all of that," he says.
"So we had to pass that on to our customers, but we are fortunate to have good customers who understood what was happening and fortunately everyone was on board.
Möbel Cabinetry's production is split about 70 per cent Canada and 30 per cent U.S., but Sihra is forecasting a 50-50 split by the end of the year.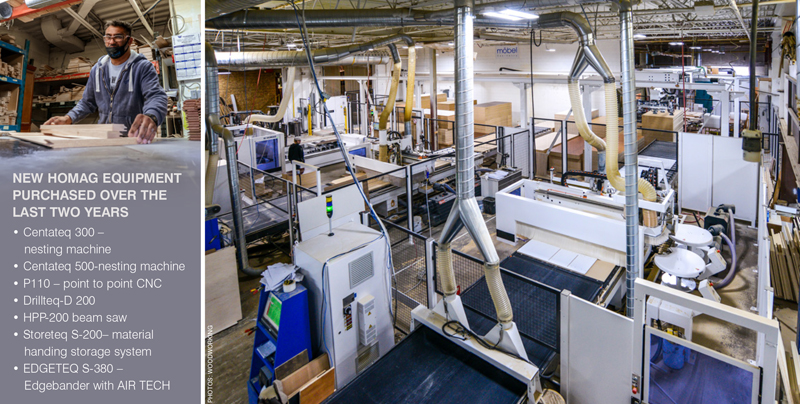 Right now they are operating from about 50,000 sq. ft. - over two buildings - and with about 35 employees in house, not counting sales staff and dealer reps. but the aforementioned additional building is in the early planning stages.
We probably already spent close to $4 million dollars and there is more to come as we are adding another building for our finishing department, Sihra says.
"For us, a company with just 35 employees, that is a huge undertaking, that is a lot of money for us, but we believe in our product and we believe in our customers and the machinery, but we want to be more efficient and we want to be successful."
When the pandemic hit - just as they were starting to implement their plans to update and upgrade the factory – Sihra says it was a total shock and surprise.
"We were fortunate however, in that we were doing work for health care providers and that market exploded. We have our own thermofoil machine and after the initial shock where everything slowed down, that actually meant we were busier than ever.
"We are also doing work for a chain of new cannabis stores - they have about 40 stores coming up - the medical work continues and we've done an AMC theatre and we do work with builders, some of whom have been my dad's clients for almost 28 years."
DuPont Registry also honoured Möbel among "Top 10 Kitchens in North America".
DuPont Registry featured a home they did on Hurontario Street and it was that kitchen that got them the award.
"In fact, we didn't even know about this, the customer called us and told us about it being featured in the magazine, so we were really happy about that," says Sihra.
Of course that speaks to the fact that Möbel is manufacturing a quality product and Sihra says it starts right at the beginning.
"We start with quality materials, we use higher end sheet goods, higher end MDF, we pay a little bit extra to do that, but we believe it is better for the customer, better for the quality and it makes sense to buy a better MDF and a better board because you have fewer issues.
"From there we look at how we process things in the shop, we put a few extra touches on things. For the dealer kitchens as an example, they don't see any particle core. We edge the sides, the back, everything on the cabinet.
"We also use better shelf clips, stainless steel with a lockdown, and then we get into finishing. Right from the start, we use high-quality sealers and primers with higher solids. Then we put on an extra coat of primer and sealer as well on the stained stuff and we finish it off with a topcoat that is also high quality with more solids. So we don't cut any corners, we take the extra time to sand it properly and that results in a higher quality product.
"So I would say that and our rigorous quality checks ensure that we deliver a quality product. Of course we are not perfect, anyone makes mistakes, but we work very hard to catch them and correct them before anything gets delivered to the customer."
As far as installation is concerned, Möbel has about four installers they work with regularly, but installation is not something they do a lot of as most of their production goes to dealers. The mix between dealers and builders is about 70 to 30 per cent.
"And we still do a little retail, but it's not much," says Sihra.
"Usually when we are approached directly, we try to farm that out to dealers that are close to us.