Woodworking spoke with WMMA leaders about the association's mandate, current challenges and solutions, the importance of IWF and how Canadian companies can benefi
t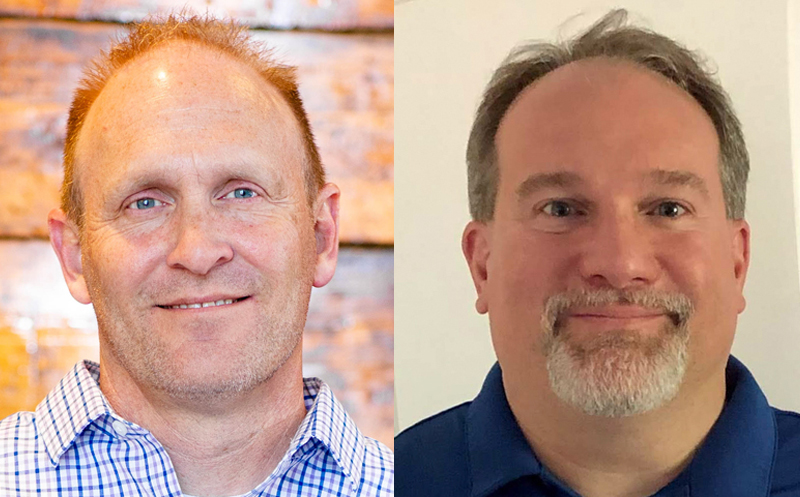 Allen Eden and Chris HackerAllen Eden, president of the Original 
Saw Company, president WMMA.
"WMMA, as an association, supports its members in the woodworking machinery industry by tracking trends in the economy, watching changes in manufacturing standards such as ANSI and ISO for export, and following trends and changes in policies on Capitol Hill," says Allen Eden.
"It supports the woodworking industry as a whole by marketing the woodworking industry, tracking policy changes and government spending programs such as CTE and the Perkins grants. We also, along with our partner association WMIA, host the International Woodworking Fair, the largest woodworking machinery show in North America and is the meeting place of the industry."
Eden says the world of 2022 is still a strange environment due to many pressures that have caused havoc on the world's supply chains.
"Shortages in labor and raw material, not to mention political unrest around the globe, makes it more important than ever to keep supply chains closer to home and more manageable.
"Buying from American manufacturers is an easy transition with close proximity and similar time zones. Fortunately the American federal government is continuing to push legislation and regulatory action that will support programs to strengthen roads, ports and railroads and open supply chains.
Eden adds that American innovation is another reason WMMA members can offer so much and Canadian manufacturers can benefit.
"WMMA members are typically smaller, more nimble innovative manufacturers that offer a broad spectrum of equipment from high-tech automated machines to easy to use manual machines," says Eden.
"Equipment from member companies is manufactured at their U.S. locations or North American based facilities. The equipment they produce is of very high quality and is shipped and supported from their North American facilities. "For our members 'on shoring' is what they have always done not something they are moving to."
"The IWF 2022 will be the largest gathering of woodworking industry personnel since the 2018 show," he says, "and the industry and the world is eager to reconnect with friends and acquaintances as well as make new connections as the world has changed quite a bit in the last two years.
"This show will showcase new advances in Industry 4.0 technology as well as new machines and accessories from all sectors of the industry.
Chris Hacker, regional sales manager for the Southeastern U.S., James L. Taylor Manufacturing, WMMA and IWF board member
Chris Hacker has worked with James L. Taylor Manufacturing for a little over 31 years and is now regional sales manager for the Southeastern U.S. and is the incoming chairman for IWF in 2024.
"Being that our company is out of upstate New York, in my career I have always seen Canada as part of that North American market and we face similar challenges and that has also filtered through to the WMMA.
Some of the things about WMMA that I have learned over the years are that the innovation and entrepreneurial sprit of the small company continues to this day. There is something about North America and again I include our brothers in arms in Canada in that. Our industry is a robust industry with many success stories.
So in saying that, WMMA is open to Canadian manufacturers, because we operate as a North American association.
"WMMA specifically focuses on CTE (Career Technical Education), we are passionate about that and we lobby Washington for funding to get involved in the educational sector so we can be a part of helping to develop the next generation of woodworkers, machinery operators and manufacturers," Hacker says.
"And I think our passion and focus on CTE is something that would resonate with Canadian companies as well."
He says the challenges are all the same whether you are in the U.S. or Canada. Working in this industry is real work and they often talk about how they can solve some of these challenges.
"U.S. and Canadian manufacturers are faced with labour challenges, so if we can start these kids in high schools and trade schools and get them to realize there are real jobs 
out there that require real work, 
that would be a start."
Hacker says WMMA's Career Technical Education is a big factor "and as I said we have a voice in Washington and we do partner with a number of other associations and we are all towards getting young folks into our industry.
"WMMA have also worked on getting the message out on how important it is to deal with combustible dust and have a safe dust collection in your factory. And while that is not a part of the business that makes you money, it is critically important and as an association we have made it a point to raise awareness.
"We also we have our own methods of recognizing people 
in our industry, like the 40 under 
40 program.
And obviously, as part owners of IWF, there is a direct benefit to being a member of WMMA as it gives you more information and closeness to the show."
He says many companies are family owned and WMMA members have an opportunity to hear from others in the industry.
"You get to hear about similar challenges and other success stories and I think that has a lot of value for a small business as it is growing and looking for answers and common challenges. And the WMMA offers a lot of networking opportunities that offer a lot of benefit for members. There is value in that if you are a small company."
WMMA also spends money to hire someone to look at the economy of the industry and trends, "and right now we have Oxford Economics, which does specific reporting that delivers a very nice quarterly report to our members telling them about where pricing is going and where the economy is going such as housing sales and many other important parameters. So our economic forecasting has been a valuable resource for our members for many years.
"As to the benefits for Canadian manufacturers to deal with America suppliers, I feel that location is important. The ability to talk to the company directly is an advantage and I believe that a small company in Canada can relate directly to a small company in the U.S."
He adds that location is much more of a factor today then it was three years ago, because the ability to get a product overseas is much harder than it is domestically.
"We ship parts and machinery to all parts of Canada on a daily basis. And something that our Canadian customers really appreciate – and they say it - is that they appreciate it that we are close and that we can ship to them in a day or two. So there is a direct benefit to location.
"And the importers will say they can do the same, they have warehouses here and showrooms and such and that is true, but to be able to have an owner of a Canadian woodworking company walk through our factory in upstate New York I think that solidifies a relationship.
"I am seeing it more and more where we are all asking ourselves the same question, how can we do this in-house again. How can we re-shore and take control of some of the processes that we used to rely on coming from somewhere else in the world.
"In today's world, it is important to work closer together."
IWF
Hacker says the direct benefit for Canadian customers is that if they see the value in WMMA, rather than visit 30 states to meet out members, they can go to attend IWF and meet them all there.
"IWF brings the absolute best opportunity for any size manufacturer in our industry, whether it's a supplier, manufacturer or woodworker to meet roughly over 100 members of WMMA in one place and see what's new," he says.
"For a Canadian company in our industry, IWF is not just a nice place to visit in August in Atlanta, it's an important part of doing business and be around so many people in our industry in five days and see the latest innovations and be able to talk to the manufacturers directly.
So if you are Canadian and busy and thinking about why you should carve out the time to come to Atlanta, I can tell you that 
based on many years of experience it is not only worthwhile, but 
today it's a necessity to help 
you grow your business by seeing new solutions.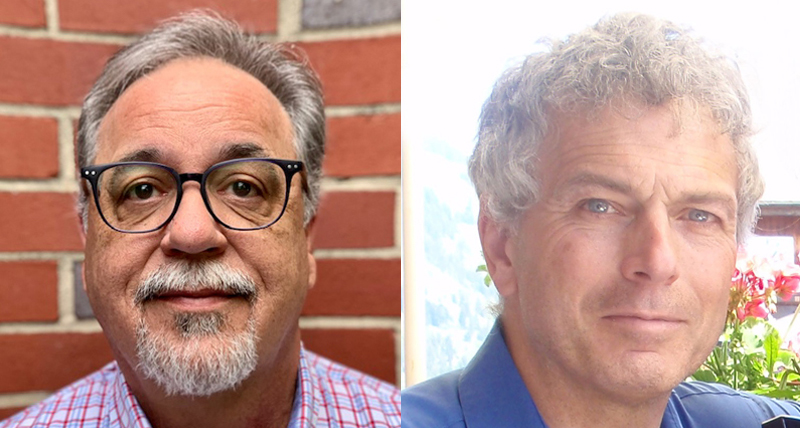 Mike Harris and John SchultzMike Harris, director of sales and service, Newman Machine Company Inc., WMMA and IWF board member
I am the newest member of the IWF management committee and also on the Board of Directors of the WMMA. The Wood Machinery Manufacturers of America (WMMA) shall enhance the competitive position, improve the performance and advocate for domestic manufacturers of machinery, cutting tools and supplies used in the processing of wood and related products.
As our mission statement says: WMMA is "The Gateway to American Technology." Our vision as an association is to help our members meet their business objectives by helping them address challenges in the global marketplace.
Our company has many Canadian customers. Since we are both located in North America we can provide assistance and solutions to most of our Canadian customers within a 24-hour timeframe.
Being the largest show in North America, IWF 2022 brings together the latest in innovation, educational lectures along with solutions to some of the most 
complex problems in woodworking today. It is an ideal venue to discuss your 
current challenges with companies eager to listen and provide solutions.
John Schultz, president Super Thin Saws, WMMA and IWF board member
"Of course there are many intricate details, but the general idea of WMMA is to help its member companies get the tools that will enable them to offer better and more innovative products, and to build and market those products more efficiently, thereby helping the members' customers, and the whole industry."
As to why Canadian companies should be interested in WMMA, Schultz says, "we are not a U.S.-only association.
"We have Canadian members and we would like to have more. But more importantly, Canadian companies (like all companies) should buy from wherever they feel they get the best mix of quality, innovation, price, delivery time, customer support, etc. "At WMMA we are proud of our member companies and feel that most of the time, that choice will be an offering from one of our members, be it a U.S. member or a Canadian member," he says. "Our members are rightfully proud of their quality and customer support and, as in other industries, very often it's innovation that sets North American companies apart. It almost doesn't need to be said, but at the present moment, with the supply chain crisis, there are additional reasons for North American companies to buy from North American companies."
Schultz adds there are many reasons Canadian companies should go to the trouble to visit IWF in Atlanta.
"In our industry, it's by far the largest tradeshow in North America and it's wonderful to leave virtual tradeshows behind and get back to a real, 3D one!
"I'm sure I'm not the only one who is quite sick of those 2D versions, on flat screens, where the machinery is flat, the people are flat, and even the beer is flat!"
At every IWF show, there are hundreds of companies introducing innovative, new products and thousands of attendees looking for them, he says. Of course there are also all the time-tested solutions to your manufacturing problem, often with a clever new twist.
"We very much hope you will all come experience the excitement, the throbbing pulse of business being done all around you, in all three glorious dimensions!"