In my last column, I discussed cluster examples around the world. I promised to provide some examples here at home of some of the activities and results of the WMCO wood industry cluster, and here are a few: examples of impactful events and some results with companies. First is an excerpt from a recent event, authored by WMCO Program Coordinator Ryan Tabone:
Earlier this year, WMCO featured a virtual plant tour of Diamond CNC's previous location, Brantford Ontario. There, the company showcased its product flow and how the business has evolved over the years. As a follow up to the Feb. 24, virtual plant tour, WMCO recently wrapped up the second part of the tour at Diamond CNC's new facility location in Nanticoke, Ontario on April 28.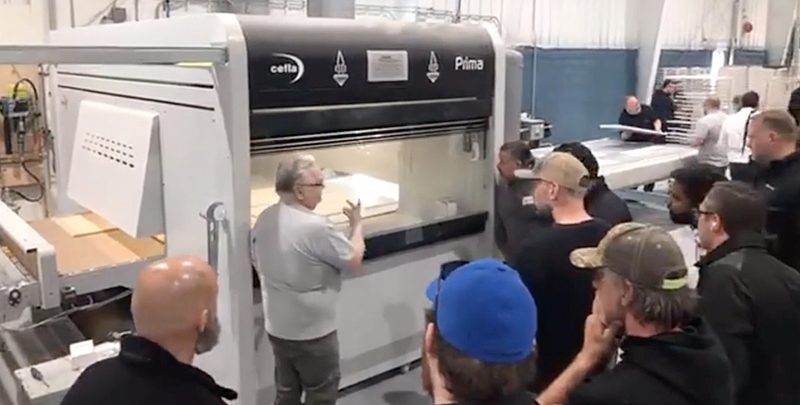 At Diamond CNC.
Owners Mike and Rob Clare provided a full walkthrough of their new 35,000 sq ft. facility with an emphasis on their continuous improvements to simplify product and information flow. Diamond CNC continues to evolve new iterations of their shop layout improving throughput and minimizing tasks that they can automate.
"It's advantageous to us not to have to go looking everyday for something in the shop. And we can track our progress, we can see how long it takes to edgeband a job or a task, and how many hours it takes to assemble. We track everything through the whole system. We don't know if we're doing better or not unless we count."
— Mike Clare,
CFO for Diamond CNC
Since moving to a larger facility, which is more than twice their previous size, Diamond CNC maintains a strict principle of minimal distances each linked process should travel from operation to operation.
With the ongoing industry-wide challenge to source skilled labour, processes to optimize throughput with available resources are naturally of paramount importance to manufacturers. Diamond CNC provided a solid example of production principles to meet the challenges of today as they work towards solving the challenges of tomorrow.
Participating members and guests got to ask questions, learn from challenges, and bring back solutions to common problems, and new insights on technology opportunities in their own facilities.
Consequently, many WMCO members see the results of participating in this activity. Here are three examples of how the cluster activity is impacting wood product manufacturers:
Milestone Millwork, 
Niagara Falls, Ontario
"I am very proud to say since we have joined the cluster, we have made many improvements through better manufacturing practices, along with equipment purchases and shop layouts. We have had conversations with other members to see how they have done it, and have taken that information to modify some of our in-house practices to become more Lean. This has helped us to organize better and lessen some of the day-to-day challenges we all face.
We believe we have been able to accomplish the below points as a direct result of joining the cluster and participating in the activities and organized events.
We have increased our shop floor space from 4,500 sq. ft. to 17,000 sq. ft. We've increased our staffing from seven employees to 22. We were able to reinvest over a million dollars in new equipment to make our shop production more efficient.
Our sales have increased from 
$1.7 million to pushing $5 million. We have benefitted from LMI and Sandler training, and have started sending our employees for the same training.
I'm sure there is more."
— Chuck Pelletier
www.milestonemillwork.com
Here is another example:
Woodland Horizon, 
Drayton, Ontario
"Since joining the cluster in 2016, we have grown from approximately 15 team members to 55 current team members. The connections we have made through networking have been priceless, and have also resulted in many new friendships. We have benefited tremendously from the plant tours, and the different training programs that have been provided through WMCO. Specifically, the Lean training has totally transformed how we look at business. It has helped us put a much heavier focus on team culture. Culture and team work is crucial for our success and a lean mindset has helped with building a good culture."
"Also through the cluster, we were able to access some funding and expertise for industry 4.0 integration, which goes a long way to help us become more competitive. The collective knowledge of the group is a valuable resource for us, and for all wood manufacturing companies in our industry."
— Laverne Martin
www.woodlandhorizon.com
WMCO member Mike Clare of Diamond CNC provided answers to the following questions, highlighting results of the cluster network for his company:
Q:What made you join 
WMCO at the beginning?
A:I joined because I was looking for answers and didn't know where to look. I want a referral before dealing with a new vendor
Q:Where you were then - size, shop, volume, sales?
A:I have been a member for six years. In 2016 we did $900,000 in 10,000 sq. ft.
Q:The events/programs you participated in, can you comment on what you learned - and how that impacted you? People you meet, things you learned from them from talking about common issues and challenges.
A:I have met most of the members; I seek out members doing what I want to do. I ask them how they achieved what I am attempting to do. Most are very open.
Q:Where you are now- size, shop, and volume, sales?
A:We are currently in 22,000 
sq. ft. and will be expanding even more in the next three months. We have another 11,000 sq. ft. available. Our sales have tripled.
Q:Anything else you want 
to add?
A:The in-person meetings are the best part for me. You get some good information from guest speakers and then you can talk about it to other members during the networking time.
I am proceeding with applying for some government funding based on the info I got at the recent Blum networking event on March 31.
To get involved with the only wood industry cluster in Canada, contact me directly or go to:
www.wmco.ca