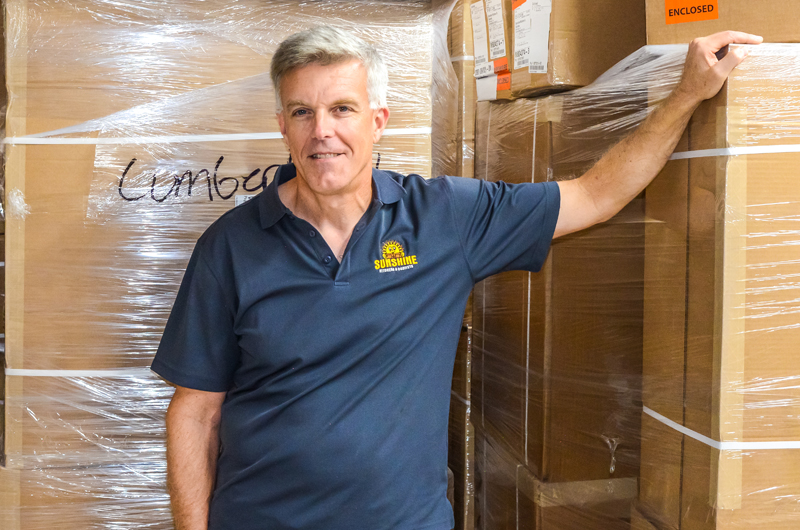 Photo: Woodworking
David Stacey
Sunshine Kitchens & Cabinets was established by Peter Stacey in 1988 in Orillia, Ontario to provide quality kitchen and cabinetry products and services from the Greater Toronto Area in the south to Huntsville in the north.
His son, David Stacey, acquired the firm in 1994 and opened a 2,500 sq. ft. showroom/workshop in Cumberland Beach, just outside Orillia. The company has continued to specialize primarily in the residential millwork market with emphasis on new and renovated kitchens.
"My dad took early retirement from his job, but he still wanted to do something," Stacey says. "So he decided to started a small kitchen cabinet manufacturing shop. I took over in 1994, but I made some changes to the business, I consider myself a dealer rather than a manufacturer."
Stacey studied Business Administration at Wilfrid Laurier University and he always knew he wanted to run his own business. When his father told him to consider the kitchen business since there are good opportunities if you do it right, that's what he did.
"However, once I decided to go into the kitchen business I decided I wanted to be a dealer rather than a manufacturer," Stacey says.
"I wasn't really interested in being a manufacturer and I liked the simplicity of being a dealer and the control that you have so that's what I did. And rather than start right away, I decided to go and work for a couple of dealers, in Toronto, to learn about the business.
"In the end though, the results are the same.
"We still deliver you your dream kitchen, we do the planning with you and handle the installation as well as any other work that needs to be done, it's just that we decided, right from the start, that we don't want to build the boxes."
"Once we've done the planning and layout with our customers, we order the boxes in the desired design, specifications, materials and finishes and they get delivered to us complete, doors on and nicely wrapped and ready for installation.
"Then it's just a matter of our professional installers going to the jobsite and install them.
Stacey says they don't get into heavy renovations as such, "but we will work within an existing space. However, if we need electrical and plumbing, we can bring those trades in, but we are not a general contractor."
Sunshine Kitchens has a 2,500 sq. ft. 
showroom and a small shop area 
in case they have to rework or 
adjust something.
"Our showroom is of course the place for customers to see samples of our work and the many available styles, colours, materials and finishes we offer," says Stacey.
"There is a lot of choice and we want our clients to be able to see and feel the kinds of materials available to them and of course show off our work."
Stacey says they work with two main cabinet suppliers and offer what he describes as a mid to upper mid-range kitchen.
"We won't give you the cheapest or the most expensive kitchen, but it's going to be good value for money and well built to last and it is going to be something we are proud to install and our customers will be happy to own it."
"Sunshine Kitchens has three fulltime designers and four fulltime installers plus myself and I do a little bit of everything, from designing to sweeping the floor," he says with a chuckle.
"Our ideal job is within an hour's drive of Orillia, but we have done kitchens in the GTA as well. We might have done their cottage kitchen and now they want a new kitchen in their home in Toronto, so we will do that. We have also done a lot of kitchens in the Muskoka area and of course most of all in the Orillia area.
And as with so many others in the construction and related industries, Stacey says they have never been busier than in the last couple of years.
Once the pandemic started there were of course the initial shutdowns and nobody knew what to expect and it was quite scary, but Stacey says things turned around quickly and the orders just kept coming in.
"Once things opened up again, people started renovating their homes and the last few years have been really, really busy," he says.
"It was good for us, I'm not complaining, but at times we had to turn down work because we just couldn't keep up. And we are still busy, but now it's getting back to more normal and that's actually a good thing because we are able to handle the workload a bit better.
Deliver times are still a bit longer than normal – around 12 weeks or so – but even that is an improvement over what they were just a few months ago.
"One thing that has and continues to help us is our long-standing relationship with our suppliers. Not only did that help us during the pandemic, but it is a real benefit every day because it means we know exactly what we can expect from them and they know us and the kind of quality and finishes we demand," Stacey says.
"In addition, for a smaller shop it's sometimes tough to buy all the best equipment and materials and finishes, so we benefit from a supplier that offers the best of everything. They have done all the legwork on determining the best materials and longest-lasting finishes.
"All the trial and error that a small shop has a tough time doing, the bigger shop can do that. So, we can offer a five-year warranty on the product because we know it's a quality product. We only buy from Canadian companies, and purely Canadian manufactured goods.
We insist on a quality product and top-notch materials. We don't cut corners because we are committed to deliver a quality and long-lasting product and as a result we get very, very few warranty issues down the road.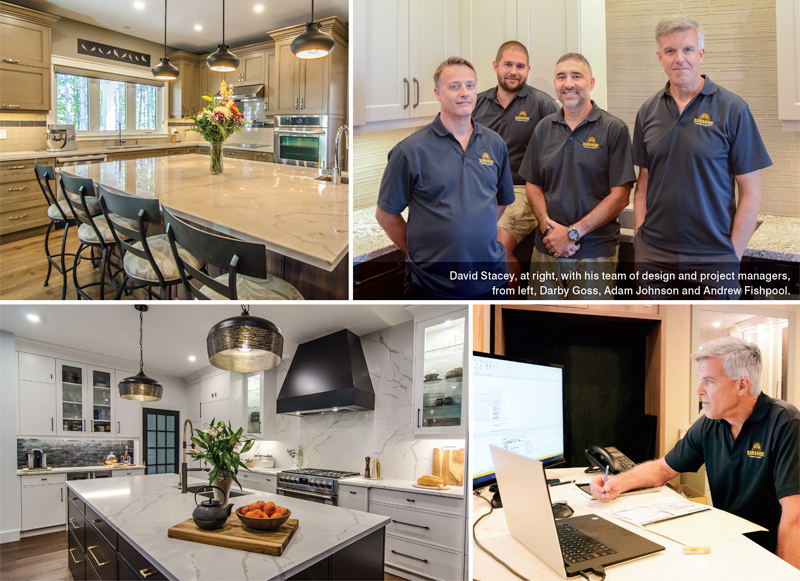 A different approach
"We also don't need to make that significant and ongoing investment in machinery and the labour shortage is also not really an issue for us. So, it's easier to sleep at night."
Stacey says he looked at this more as doing a business he was comfortable with, as opposed to a hobby that turned into a business.
"I am of course not alone in this, there are many kitchen dealers out there, but for me it was just the way it made the most sense."
Sunshine Kitchens does not specialize in a set kitchen, instead "we do pretty much anything the customer wants, but certainly painted kitchens seem to be the most in demand right now so that is what we do the most of right now. And the majority in a simple style like Shaker or something similar. We do see additional colours added sometimes in the island and quartz countertops are by far the most popular right now."
"And if someone asks for a solid wood door instead of painted, that's not a problem at all. There really are very few limitations. We may not be as custom as the shop that can literally do anything, but anything that is in demand right now, we'll offer it to our clients.
Stacey says stain has fallen out of favour now as have laminates and granite countertops.
"We also don't do marble for kitchens because it's not very durable. And surprisingly, there is also not a lot of demand for Corian anymore, except for commercial applications."
Installation is key
"A good installation is key for any kitchen and we don't sub that out. It's too important a job to hire it out, so we have our own employees looking after that to ensure we get the quality installation our customers expect, Stacey says.
"As to how many kitchens we do a week, that obviously varies a bit, but I would say we average about two kitchens per week.
We'll also do millwork, basically any cabinet in your house, closets and vanities and built-ins around fireplaces and that sort of thing. What we don't do is furniture."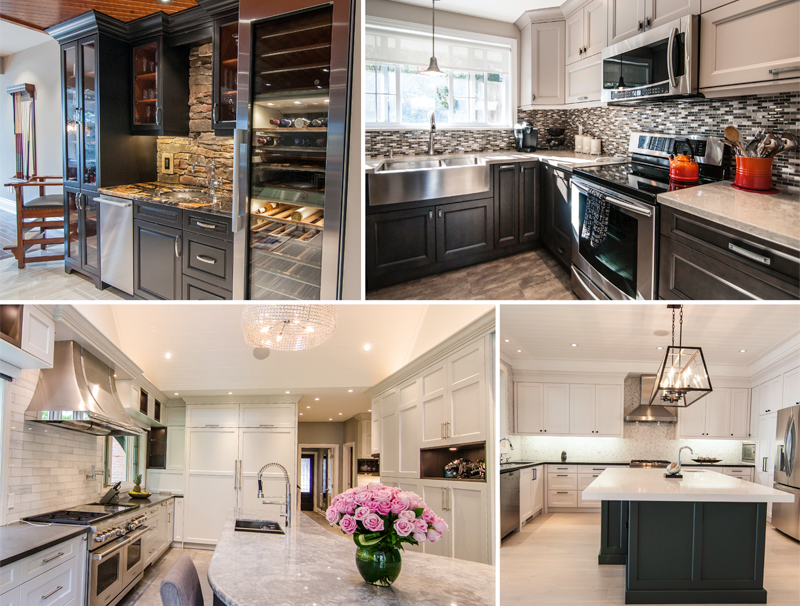 Good design
"Our designers really make a difference. Having a smart designer who is creative and a good communicator using really good software and renderings, is the other key ingredient and a big part of what we do well. You really can't be successful if you don't have great design.
"Our process typically starts with a sit down with the client to discuss their needs and wishes. If it's a new house than they probably have the plans that we can work with, but usually we get started in the showroom and go over what they are looking for in that kitchen.
"Sometimes we do a quick design with them while they are here, other times, if it's not a new house or a reno, they'll bring their ideas to us. We can also go out and measure it first and then we design it for them. Once the design is complete, we present them with really good 3D colour drawings and get their feedback. Then we can pick out the materials in the showroom and figure out an accurate price for them."
Stacey says they try to give a rough quote early on so there are no surprises, "but obviously we need to know the materials before we can give our final quote."
He says they generally don't charge design fees; we build that into the quote and hopefully we don't waste our time.
"You get a pretty good feel for people after doing this for as long as we have, so it's not generally a problem.
"It can be tricky I guess in some markets, but you have to use your instincts and hope most people are not taking advantage of you.
We have been burned occasionally, but most of our customers are really nice and you get to read people, so for us there hasn't been a reason to change our approach on how we do things."
Stacey says in addition to "regular customers" they also have a good network of contractors and custom builders they work with regularly. They'll send their clients here to get a quote and design for their new kitchen. That's a big part of our business and there are also contractors doing renovations who bring us in as well to help their clients with their new kitchens.
Stacey says their client mix is about 50/50 between builders/contractors and clients they find on their own.
"Mostly it's word of mouth and if you do a good job and make them happy they will spread the word. We are also in an easy-to-find location right here on the highway (Hwy. 11) and if you've driven by here a number of times, you may have a good idea of where we are.
"We have gone for slow and steady growth every year and we stick to kitchen design and cabinetry rather than full renos, because that's what we do best.
"Like I said, we will deal with contractors for some renovation work if required – we will take out a wall or something like that – but we will not do a full renovation," Stacey says.
"I know there are some kitchen places that are also general contractors, they'll do everything and that's great and that works for them, but then you end up spending way more time on a job, which means you are not doing as many kitchens. So, we've decided to focus on kitchens, but certainly, we do what is required to get our clients the right kitchen."